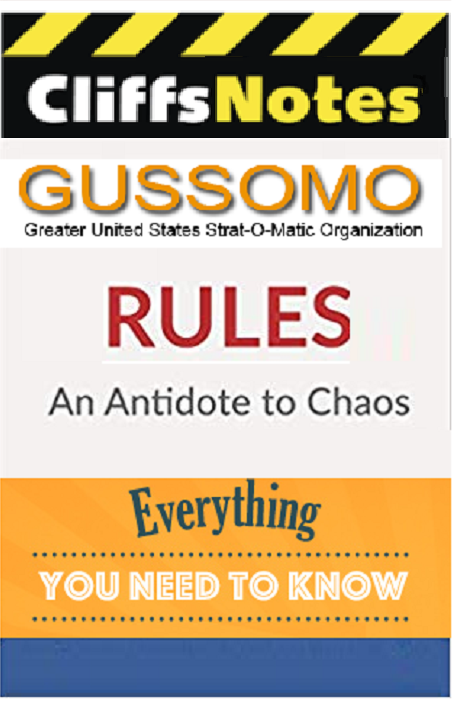 Or... if you'd like to... you can call this...

1) League Format - Games are played via Computer and using Computer Manager (CM).
2) League Dues - $40.00 to be paid prior to the start of our Regular Season.
3) League Schedule - Total of 162 games. Played over the course of 27 weeks. Each week consists of 6 games... (3 Home games and 3 Away games).
4) Playing According to the Schedule - The schedule is divided into 7 "Blocks" of Games. Each Block corresponds to 1-Month of the Calendar. We play and report all games in Block # 1 (April) before we move to the nex Block (May, etc...). The Month of September is split into two (2) Blocks. DO NOT PLAY AHEAD OF THE SCHEDULE. The only time that games (could be) played outside of the current Block of games is during one of League "Face-to-Face" Get-Togethers. Contact the Commissioner for any other exceptions.
5) Roster Size - Total Roster Size is 35 players (27 players on your Active Roster and 8 players in your Minor League).
6) Minor League - A total of 8 players can be in your Minor League. The only time that it could be less than 35 players is if you made an trade and gave up more players in return for a lesser number of players. Anytime you "recall" a player(s) from your Minor League, you must "send down" to the Minors" the same number of players that you "called up" to your Roster. You may use your entire 35 man Roster beginning with Week # 23.
7) Minor League Recall - You can recall players from your Minor League prior to any Road Series (Block of Games). The Players that you "call up" will stay on your active Roster for the entire Block of games. The Home Team can "call up" Players prior to any week of a Series... but not before individual games of a Series.
8) Using a CM to play your Games - We play our games by using a Computer Manager (CM). You will need to send in a current CM prior to the beginning of each Block of Games. Please make sure you send your updated CM to the League Administrator on time.. so it will be included in the current League File.
9) Starting Pitchers with 3 Day Rest - Only Pitchers with 200+ innings listed on their SOM Card can start with 3Days Rest. All other Pitchers with Starter listed on their Card can start a game with 4 Days Rest. note: We do not use the Asterisk Rule (if listed on a Pitchers Card) to determin who can Start a game with 3 Days Rest.
10) DH Rule - Yes, we use the DH for all games (Regular Season and Playoff Games)
11) Outfielders may play the other Outfield positons NOT listed on their SOM Card. ** See the chart under the RULES Tab for Fielding Adjustments. These Adjustments are "auto-adjusted" by the SOM Game.
12) Infielders CANNOT play infield positons that are not listed on their SOM Card. Furthremore, Infielders CANNOT play any OF positions.
13) Players with 2 or more SOM Cards - You have a couple of options.
a) You can elect to use the Players/Pitchers "Combo" Card
b) You can chose to use ONE or the OTHER of the Players/Pitchers Card (you cannont use both).
c) And finally... 10% usage will be added to the Card that you choose to use.
14) Trading - Please review and understand the guidelines for making a trade... and the process that is required once you consumate a Trade with another Manager.
a) Trades are to be made privately between the Managers involved (Could be more than two (2) Managers.
b) All trades that are made will continue into subsequent years of G.U.S.S.O.M.O.
c) You "own' all your Players/Pitchers until he is traded by you, cut by you, or no longer has a Strat-O-Matic card. One exception... you can elect to keep a Player/Pitcher on your Roster (even if he doesn't have a current card). Someone might be injured (no card), and you want to hold on to him when he does play again (and gets a card).
15) Steps after Playing a Series - What you need to do after you play a EACH and EVERY SERIES versus an Opponent.

a) Send an E-mail to the Commisioner with the results of the Series
b) In the Subject Line of your E-Mail please put the following...
RESULTS - WEEK # ____ OPPONENTS TEAM NAME vs YOUR TEAM
16) End of Block Reporting -
17) Protests - Let me be as clear as I possibly can about Protests...
If you Follow the Rules and Follow your Opponents CM...
Then there shouldn't be any protests...


It's pretty Simple... don't you think?

Oh... and one more thing....regarding your Opponents CM...
Sometimes your Opponent might send you via E-Mail --- some "extra" or special instructions asking you to manage his team a certain way (in order to help him prevent the Over-Use of his Players/Pitchers). Make sure you check for addtional instructions that your Opponent may have sent to you via E-mail.
18) Pre-Season Draft Requirements for YOUR Team: Before we start our Regular Season, we will have our Pre-Season Draft. The date of the Draft will be announced by the Commissioner. The Commissioner will also announce a "due date" for each Manager to make final cuts from his team. Each Manager is required to cut his Team Roster down to a minimum of 25 Players/Pitchers. You may "cut" more players if you wish... but you cannot have any more than 25 players when we begin our Draft. Once you send in your list of "cut" players, you cannot include any Cut"

19) G.U.S.S.O.M.O. Draft -
* We utilize the web based "Strat Draft" tool to conduct our League Draft.
*

Our Draft usually starts towards the end of February or beginning of March. Specific Dates, Times, etc... will be communicated to all League members.
*

Strat Draft "sign in" codes will be provided.
* Draft order is listed on the League Web Page and Strat Draft web site.
*

There will be TIME LIMITS for each Manager to make their pick.
*

Players that have been "cut", cannot be included in any trades.
* Who can be drafted? Any Batter/Pitcher that currently is not on the Roster of any G.U.S.S.O.M.O. team and has either 1 Official MLB At Bat... or Pitcher with at least 1/3 IP (this includes former carded players that are out
with an injury and not on a current G.U.S.S.O.M.O. roster. Players are not
draftable if they make a Game appearance (i.e. PR, HBP, SAC, SF)


20) Drafting Order - is determined by the Winning Percentage of each team. The team with the lowest regular season Winning Percentage will have the 1st spot in the League Draft. This will be followed by the team with the 2nd lowest Winning Percentage.... all the way to pick # 14.
Note: In the first round of the Draft, picks # 1, # 2, # 3 and # 4 will be determined by a lottery system (please see regular Rules for details about the lottery). For all subsequest rounds of the Draft, the drafting order will revert to the normal order as determined by actual winning percentages from our previous (regular) season.
Picks 15 and 16 = Losers in the Wild Card Series/Bracket (lower Winning Percentage picks in the # 15 spot.
Picks 17 through 20 = Losers in the Quater-Final Series/Bracket (lowest Winning Percentage picks #17, followed by next lowest Winning Percentage picking # 18, then # 19 and finally # 20, who has the highest Winning Percentage of teams that lost in the Quarter Finals.
21) Weighted Chances (Draft Position) - Please see the Full Rules for specific information about how the Lottery Odds are determined.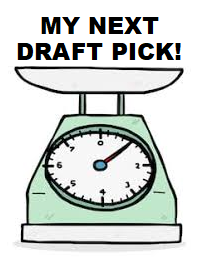 22) Drafting Order when Teams are Tied with the same Win-Loss Record -
23) Free Agent - "Waiver Rule" - Managers may elect to pick-up and add to their Roster
"Free Agent" players. You will be allowed to add one or more "Free Agent" players during the time periods listed below.
MAY, JUNE, JULY, AUGUST and/or September Blocks
A Manager can only get up to (5) Five "Free Agents" during the Season.... but only (1) one Free Agent per Month.
Selection of Player(s) can only occur during the first 3 weeks of the G.U.S.S.O.M.O. Schedule (Monthly Blocks) listed above.
24) Ball Park Ratings - All Managers can set/re-set their Ball Park rating no later 2 days after the completion of the League Draft. If you do not send in your Ball Park ratings within this time period, your Ball Park ratings will automatiacally be set at 1 - 10 for both Singles and Home Runs.


| | | | | |
| --- | --- | --- | --- | --- |
| | MINIMUM | OUT | MAXIMUM | OUT |
| SINGLES | 1 | 2-20 | 1-19 | 20 |
| | | | | |
| HOME RUNS | 1-2 | 3-20 | 1-18 | 19-20 |