League News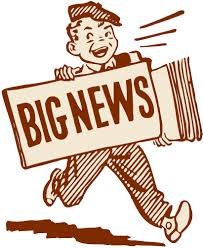 Strat-O-Matic Devotees

Celebrate Its 50th Anniversary
**

A Sporting Life of Dice and Cards

**
By STUART MILLER
FEB. 13, 2011
Continue reading the main story Share This Page
On July 15, 1990, Brett Carow, then 10 years old, and his father were killing time at a mall, looking at board games, when Brett's father suggested he might enjoy Strat-O-Matic Baseball, the popular dice-and-cards game. That proved a serious understatement.
That day, Brett, using the Milwaukee Brewers (his favorite team), lost by 4-1 to his father, who had chosen the World Series champion Oakland Athletics. In an uncanny demonstration of Strat-O-Matic's realism, the actual Brewers lost to the actual A's by the same score that day. The youngster was hooked.
Carow, now a 31-year-old account representative with Enterprise Rent-a-Car in Wisconsin, has played nearly 11,000 games since, averaging 1.44 games a day, solo or with a friend.
The passion and dedication of players like Carow were the heart of a celebration of Strat-O-Matic's 50th anniversary in Midtown Manhattan on Saturday. The company's 75-year-old founder, Hal Richman, declared Carow the game's Ultimate Fanatic.
Carow, who won a new set of Strat-O-Matic cards every year for life, beat out devotees like Jeff Fleischman of Colorado, who has played in the same league for 40 years, and the runner-up, Larry Fryer of Maryland, whose collection of Strat-O-Matic games is so extensive that the company had to borrow from it for the historical archives on its Web site.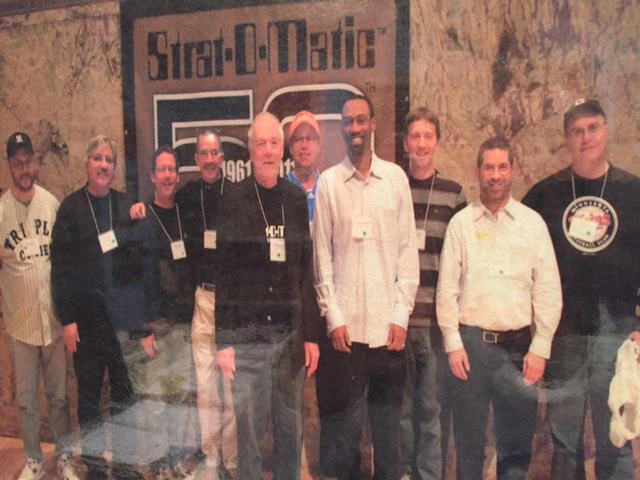 Jeff Fleischman (Center - Rear) between Hal Richman and Doug Glanville
"Definitely, after my second wedding, this is the most exciting day in my life," Carow said. "This justifies, in my head, all those hours I spent playing over summer vacation, when my family would wonder what I was doing.
The game's hold on its followers was apparent after a panel called "How Strat-O Has Influenced Your Career," which included Richman. When the floor was opened for questions, one man after another lined up, but few had anything to ask.
Instead, they simply wanted to thank Richman for creating the game. One man said it "saved my life" when he was looking for escape from an abusive, alcoholic father.
Richman, who usually shuns publicity and who had a tempestuous relationship with his own father, was clearly moved.
"I was tearing up at some points," he said. "Strat-O-Matic isn't a religious experience for these people, but it does have tremendous meaning in their lives."
Among the 600 aficionados was the former Major League center fielder Doug Glanville, who spoke at the event.
"There's a lot of pressure when you roll the dice on your own cards," Glanville told the crowd.
He said that one year, he complained to Richman when his defensive rating dropped. Now an analyst for ESPN, Glanville said he sometimes studied players' cards like scouting reports.
"I just saw an Ian Kinsler card today and saw he was an 'A' bunter," he said. "I didn't realize he was that good."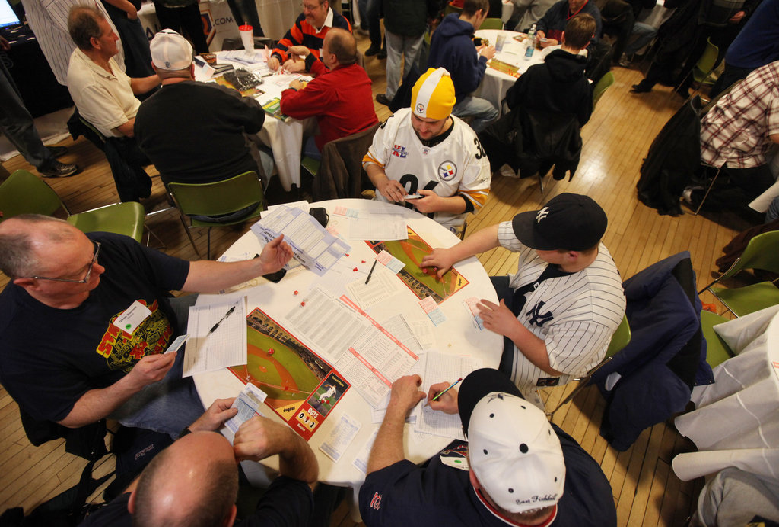 Strat-O-Matic Baseball players in their element during a convention Saturday in Manhattan. About 600 aficionados attended. CreditChang W. Lee/The New York Times
Strat-O-Matic, in which rolls of the dice correspond to results on cards that mirror players' real-life statistics, has survived in an age of high-tech video games.
"Like Othello or chess, you can learn the game swiftly, but you'll never tire of the strategies," said Glenn Guzzo, a former newspaper editor and the author of "Strat-O-Matic Fanatics," who has been playing since he asked his mother for a set for his 12th birthday in 1963.
He said the game's combination of playability (it can be completed in a half-hour) and realism were essential to its longevity. "There are also an infinite number of ways to keep your imagination fertile," he added.
Carow plays in a league that uses players from 1920, 1924 and 1934 and has Zack Wheat of 1920 batting third and Zack Wheat of 1924 batting cleanup. "You can make the impossible happen," Carow said.
Making the seemingly impossible happen has been the story of Richman's career.
"Twenty-five years is a good lifetime for a business, but 50 years is rather shocking," says Richman, who invented a primitive version at 11 and spent his teenage years refining the game.
In his 20s, after discouragement from his father and rejection from numerous companies, Richman borrowed money from friends and started the game on his own. He survived money-losing years, royalty demands from the players union and challenges from well-heeled competitors as his invention became the leading baseball board game. He added games for the N.F.L., the N.B.A. and the N.H.L., and created advanced versions for baseball that featured ratings for hit-and-run ability, outfielders' throwing arms and pitchers' endurance.
In the 1980s, Richman said, the arrival of computer and home video games scared him. "This was not my generation, and I knew I wouldn't be able to handle it," he said. "I thought my game had 5 to 10 years left."
Richman said Bob Winberry, a computer programming expert and avid Strat-O-Matic player, saved the company, creating a computer version that enabled players to go head-to-head from separate locations or to recreate entire seasons in solitaire versions at far greater speed. (Many die-hard fans like Carow play exclusively with the board game; others, like Guzzo, use both.)
John Dewan, the founder of Stats Inc. and now the owner of Baseball Info Solutions and a co-publisher of Acta Sports, said studying the Strat-O-Matic cards in his youth inspired his career. He said his Plus/Minus System, an innovation in measuring a player's defensive skills, came from having a Strat-O-Matic shortstop with a mediocre 3 rating that piqued his curiosity. (Dewan has played in a league since 1975. With his son in college, they now play via Skype.)
At the event, there was supposed to be a lunch break before attendees could pick up the 2011 baseball card set or head into a game room. But the break was ignored. In minutes, at least a hundred people were in line for the set, and dozens more sat at tables, rolling their dice and shouting after each roll.
Richman was not among those playing. Devoting 60 to 80 hours a week to Strat-O-Matic, Richman rarely has time to play.
"When I'd get home, I'd want to get away from it, plus my family would have revolted," he said, adding that he also rarely got to watch baseball.
These days, Richman is semiretired on Long Island, but he still spends more time nurturing his creation than playing it.
"I always thought that if I stopped working altogether, I'd have time to play more," he said. "But will I ever stop working at Strat-O-Matic? Probably not."
A version of this article appears in print on February 14, 2011, on page D5 of the New York edition with the headline: A Sporting Life of Dice and Cards. Order Reprints| Today's Paper|Subscribe
------------------------------------------------------------------

Vol. II, Issue #4 - October 2014


** G.U.S.S.O.M.O.
**
- The Longest Existing League -
Jeff Fleischman
(In two prior issues we have shared about this unique league known as GUSSOMO, an amazing
SOM Baseball league that has lasted since 1971, when we only had mail leagues. But what is the
most interesting aspect of this league is not that it has lasted this long but the relationships that have
been formed between all the members including their families. It is like GUSSOMO (which represents the
Greater United States Strat-o-matic Organziation) has become its own family unto itself as this league
offers many in-person gatherings which no doubt have helped its longevity. Finally, after many months
we were able to track down the leagues commissioner Jeff Fleischman, to tell us the full story .....)

(Notes from the Wolfman: As I shared in our May issue when interviewing Ralph Polumbo, the undisputed champion of GUSSOMO, I met Jeff Fleischman at the very first SOM Convention in Kalamazoo, Michigan in 1971 and again we hooked up in Brooklyn at the second convention. We became good friends in these early years which included a chance to visit Jeff when he lived near Los Angeles. He also attended our SOM conventions at the University of Illinois and one of the main members of GUSSOMO, who joined during these early years, Larry Steinburg, was also a good personal friend when I lived in Chicago. I think when I visited Chicago in 2008, I attended one of GUSSOMO's face-to-face meetings where the managers came together and played their league games via the SOM baseball computer game. I saw Larry at this meeting and also Bob Fidler, who is in our league in the CBA, my opponet I wound up facing in the CBA World Series that year and lost in 7 games. So it is finally time to bring the wiz of GUSSOMO forward to speak directly with our members in this issue; my old friend who I used to call Fleisch.)

---

Wolfman: Today dear members, it is a great honor and pleasure to speak to one of my most dearest friends in Strat from the early years, Mr. Jeff Fleischman, the Commissioner of the longest standing SOM Baseball league going on now since 1971. Let us give an Ultimate Strat Baseball welcome to Jeff Fleischman.
Jeff, have you always been a big baseball fan? When you were younger did you play any little league and if so what was your best position?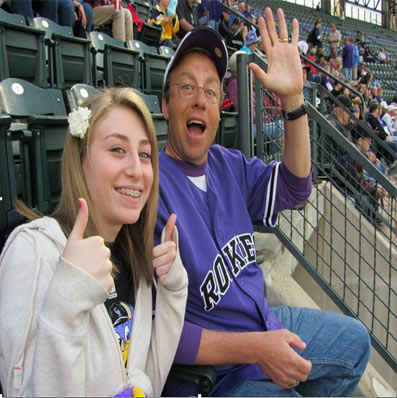 Jeff: Yes, I've always been a big Baseball fan. It's always been my favorite sport. I did play "Little League", playing on my first team when I was 8 years old. I played organized baseball from 3rd grade all the way through my first year of College at UCLA. The positions that I usually played were 3rd Base, Pitcher and Outfield. I had a pretty strong throwing arm... but hurt my knee and couldn't continue playing.

My first uniform number was "25" and to this day, whenever I play on a team, I always try to get # 25. The MLB jerseys that I own (with my name on the back) all are # 25.
Wolfman: When you were younger where did you live? What major league baseball team(s) did you root for? When I visited you all those many years ago you were by LA right? Who were some of your favorite baseball players that you admired and followed?
Jeff: I'm originally from (South) Philadelphia, PA and lived in South New Jersey before my family moved in 1962 to Santa Barbara, CA and shortly thereafter to Southern California (eventually settling in Downey, CA -- home of the Apollo spacecraft!).
I guess I was too young to be influenced by my Dad to become a Phillies fan. The first baseball game that I attended was between the Cincinnati Reds and Philadelphia Phillies at Connie Mack Stadium on my Birthday (Saturday... May 31, 1958). The Phillies with Robin Roberts and Richie Ashburn beat the Reds and Joe Nuxhall by the score of 5 to 4. I probably could have become a Phillies fan with Johnny Callison and Richie Allen.... but I fell in love with the Los Angeles Dodgers. My favorite players were (of course) Sandy Koufax, Don Drysdale, Maury Wills, Willie Davis and Wes Parker. And of course, I still love listening to the best baseball announcer ever.... Vin Scully. I used to sneak my transistor radio to school and wire it so the ear cord ran up my windbreaker jacket and sat in the palm of my hand... then I could lean on my hand as if I were paying attention to my class... but in reality, I was listening to the ball game!!
I used to go to as many games as I could at Dodger Stadium.... when I got my drivers license, and didn't have anyone to go with... I often would go by myself. I used to buy tickets to the first game of every HOME series and go to ALL the games versus the San Francisco (yuk) Giants.
One time when I was Dodger Stadium... after the game.... a buddy of mine and I were going all around the Stadium and going up and down the different levels.... when we got to the "service elevator". It stopped at the press box level and Vin Scully and Wes Parker got on. I was pretty excited and asked Wes Parker if he could "sign his name for me real fast". He took my personal score book (I used to keep score to all the games... even at Home)... he looked at me.... and said "Yes I can... and I can also sign it REAL SLOW".... then he proceeded to sign his name real slow.... talking out each letter of his name. Vin Scully was cracking up while this was happening. I still have the score book with both Wes Parker's and Vin Scully's autographs.... among my many baseball collectibles and mementos.
Wolfman: Now before there was an SOM Baseball, did you ever try any of the other simulated baseball games at the time or was it that Strat-o-matic first?
Jeff: It's kind of weird, but I remember playing a couple of games. One had a long "spinner" that had a wooden baseball attached to the end of it.... and you would spin the "ball" and then read your results. I know that there was another game... but can't remember what it was called.
I also remember going to my Aunt and Uncle's house in a real nice section of Los Angeles for family events and dinners. Some kids that were much older than me used to sit at this Counter separating the Family Room and Kitchen on bar stools and play this baseball game. I wasn't asked to participate (so I watched), but when I picture what they were doing and what the game looked like... I'm pretty sure it was APBA. I do have an APBA game. It's their World Series (Greatest Teams) Edition. I wasn't in a League. I just played games solitare, with my Brother and some local friends. I think I got it before Strat-O-Matic game out with a bunch of Old-Timer teams. When SOM had the Older Teams, of course I purchased them and really enjoyed them.
Wolfman: How did you hear about Strat-o-matic - what was the first year you played? Did you have other friends you played with or did you get involve in some mail leagues?
Jeff: My next door neighbor and I used to draw pictures of professional baseball players and read a lot of baseball magazines. I remember that we saw an Advertisement from Strat-O-Matic... and we both decided to send away for it. (Well, I had to first convince my parents that "I HAD TO HAVE THE GAME... THAT I REALLY WANTED AND NEEDED IT!!") That was 1969. WOW..... has it really been 45 years!!
Wolfman: What is there about SOM Baseball that has kept you an avid fan and player all these years? What do you like about the game? Which early teams did you get involved with?
Jeff: It's kind of interesting that you ask this question, because there is a reason I stayed with Strat-O-Matic. The main reason I stayed with SOM (compared to other Baseball games) is the "individuality" of the players cards. Keep in mind that when I started playing SOM, there was only the "Basic" side of the Hitters and Pitchers cards. However, I felt that each card (and player) was different from the next card and next player. In my opinion, I was comparing SOM to APBA. In the APBA, for example, I felt that all the pitchers were kind of rated the same (A, B, C, etc... with some variations as to being a "control" pitcher or a "strikeout" pitcher. It seemed to lack that individual, personalized component that I saw with SOM. My friends in Downey, CA were playing APBA and wanted me to join their League. (I eventually joined their League, but I originally asked if I could play MY games using SOM). They said no, so I played some APBA for a while (only in their League), while I searched out to play other people that played and enjoyed SOM.
Wolfman: Now how did the idea of GUSSOMO begin? It was a mail league to start yes? Did you form it yourself or did you have some other friends help you. How many teams did you have in your first season.
Jeff: As it would turn out, I discovered a League in the new SOM Review. I joined a League that didn't have a League Name. I think we were playing games for about a month. We had 24 teams... I had the 1971 Baltimore Orioles. We all got a letter from the organizer of the League (who was in the Air Force at Travis Air Force Base near Vallejo, CA). He informed the League members that he was being sent to Germany and wouldn't be able to run the League. He asked if anyone would be willing to take over the responsibilities and be in charge of the League. I was really enjoying things... so I wrote back and volunteered to take over the League. Again, we had only been playing for maybe a little over a month. As it turned out, the guy who was "running the League" sent me three big envelopes full of papers and statistics that were not totaled. Additionally, he DID NOT send me the League Dues that he had collected from each Manager. So... I started out in a deep hole and went about my way and business of trying to organize things. I guess you could
say that it has been fairly successful.... as we have just completed our 48th consecutive year!!

Here is how I came up with the name G.U.S.S.O.M.O. It seemed that a lot of the Leagues I was reading about in the SOM Review were calling themselves "the Greater (whatever the City they lived in) SOM League". Since we had members all over the United States … I just figured The Greater United States Strat-O-Matic Organization would be a good name and fit things (going on at this time) pretty well. By the way, we have had members in Canada and Europe over the years too!
Wolfman: I see you live in Colorado now and you are the manager of the Piney Creek Palookas - but I see you had several teams out of San Jose, California (then you moved) in your early days. How do you come up with your team names. Have any of your boys won a GUSSOMO championship?
Jeff: Over the years, I've had a number of team names. Most of the times, I came up with a name that was the name of the City where I lived.... or was connected to the City or Region in some way. Sometimes, I was just having fun and came up with a "silly" name. After we went to a Draft Team (as opposed to a straight team league), my first team name was the San Jose Gringos. I then changed it to the San Jose Sultans. I had that name for a long time. I thought I had a pretty good "team logo" (see attached). Remember... before the Computer version of SOM and the use of "CM's" or Computer Managers... we had to send our instructions to our opponents via the U.S. Mail.

One year my team was called the San Jose Replacements (in honor of the Major League Baseball Strike) because my team was about as good as the replacement players that were being used by MLB. The team name changed to the Aurora Sultans and then the Aurora Borealis (when I moved to Aurora, Colorado). I changed it to the Mile High Maggots (because my team was soooo bad). I am currently the Piney Creek Palookas. Piney Creek is the development that I live in (Centennial, CO).... and the Palookas is because I felt my team was getting stronger.... and you better not mess around with a team that will kick your butt!!!
Wolfman: What type of team do you like to play with in GUSSOMO? What was your best team you had - who were some of the players on that team?
Jeff: I like to play with a team that has good pitching, some batters that hit for and average... has some speed and at least a few decent pitchers. I always want to be competitive... but I've made a lot of trading mistakes in the past. My thinking was all wrong. I'd "give up" on a lot of young talent and go after a "seasoned" player that I liked a lot.... I guess you could say, some of the guys that I traded for were one their way DOWN.... I don't do that any more. I try to go for the best players.... as opposed to trying to fill my immediate needs. I'm always willing to make trades.... but I really try (at least) to be smarter about any moves that I make.
I think my best teams were back in the earlier 80's when I had guys like Ricky Henderson, Tim Raines, Steve Garvey, Ron Guidry, Don Sutton, Amos Otis (remember him), Cal Ripken, Jr. .... and others. Keep in mind, I didn't have all these guys at the same time. The first player I every drafted was Steve "Captain America" Rogers from the Montreal Expos!
Wolfman: We ask each person we interview for tips to help the members of our newsletter. What are some of the key strategies you have used in building your team in GUSSOMO and to winning games. Would you recommend a hitting team or a pitching team, or a combination of both?
Jeff: Well, given that I haven't won a championship in 43 years, I think you might be asking that question to the wrong person!! LOL.....
Maybe you got the answer to that question when you spoke to one our long-term Managers (Ralph Polumbo) who has won 10+ Championships! However, my answer to this question would be.... "Don't make trades with Ralph Polumbo!"). I used to jump at making trades for some of the "big names" that I liked. To this day I still feel the pain of another trade I made... not with Ralph, but with the Seattle Manager (Jim Phelps). I needed a Catcher REALLY BAD.... so I traded Adam Wainwright for Kenji Johjima and a draft pick... I think a # 2. Ugh!!! Who got the better of THAT deal???
Wolfman: What are some of your fond memories from attending the early National SOM Convention?
Jeff: I had a great time at the National SOM Convention in New York City (Abraham & Strauss Department Store). I look back on it as a 19 year old kid who is now 59 and remember doing all the things you probably shouldn't have been doing in New York City.... like having our Hotel room on the East Side by the River in the Red Light District. We shared our room.... one room.... with about 4 or 5 League members! We traversed New York City.... doing whatever we wanted.... riding the subways at 2:00 A.M. I remember losing in the tournament to some "kid" that was 10 or 11 years old. Yep.... I was a great Manager! BUT..... he beat me with my 1971 Baltimore Orioles...... so I guess in a way.... I wasn't all that bad.
During this vacation/experience, I met Larry Steinberg from Skokie, Illinois. In fact, prior to going to New York, I spent a few weeks at Larry's house during the Summer of 1973. After the New York Convention, Larry, who was also at the Convention and is still a League Member.... flew with me back to Los Angeles and spent a few weeks in Downey, CA. To this day, we are still very good friends and have shared a lot of life experiences.... marriages, births of children, Bar Mitzvahs, College, etc.. etc...
Wolfman: One of the things I wish to complement you and GUSSOMO is that you try to setup live meetings with your managers to play games as well as go to outings together -- where did the idea comes for this. Do you find by having your members meet in person, that this has helped the longevity of GUSSOMO?
Jeff: I think the idea basically came from a few of the Managers talking about it and saying, "Hey, let's see if we can get a few of the Managers together and play our games face to face. It actually started with about 5 or 6 of the Managers getting together in Harrisburg, Pennsylvania. Those Managers were Ralph Polumbo (Jersey Gents), Bob Galvin (Maumee Comets), Earl Brock and his great team name (Manchester Big D's), Larry Steinberg (Skokie Sluggos) and Dave Hendricks (Moylan Monks).

Since then, we've pretty much gotten together every single year... I think the first get-together or long weekend was in 1983. So we've been doing it for about 30 years. In that time, we've been to most of the Major League ball parks. I think we've been to San Francisco (new stadium), Seattle (new stadium), Colorado, Cincinnati, Kansas City, Chicago, Detroit, Milwaukee, Pittsburgh, Baltimore, New York, Philadelphia and all the other ones in between!
The truth of the matter is that the get-togethers have really helped solidify the connections and friendships that the members have with one and other. As I said before, we have experienced A LOT of events in each other's lives. I think it's the friendships that have been formed that have lead to the success of our League. Where else can you find something.... a game.... that has created a connection that has bonded people together for over 45 years? Thank you, Hal Richman!!

Wolfman: Is there any other reasons why you believe GUSSOMO has lasted so long - what do you see the keys for your success?
Jeff: I think I have answered this question with my previous answers but also I have shared an article that I've posted below which also explains it all ....
However, I do think the success of G.U.S.S.O.M.O. has been through our friendships and open communication. Running the League is like running a business. It has taught me, to some extent, on how to deal with people. It has also taught me about communication and organization. It's funny how and where you learn/acquire some of the skills you use in other parts of your life.
Wolfman: Do you have any GUSSOMO stories - special games or experiences you had during league play that were unbelievable or quite amusing you could share with our readers. Who is the most famous member of GUSSOMO that had a team in your league?
Jeff: Special games? There are way to many to recall. However, I do remember playing with the old time cards when they came out... and I suppose many people did what I did.... that was "matching up" the 1927 New York Yankees against the 1962 New York Mets. The thing I remember was that I played the game.... or at least started the game.... and then had to go to dinner (Sizzler restaurant) with my family. I came back to complete the game a couple of hours later.... and the game was my very first NO HITTER..... believe the Yankees won by a huge score.... something like 12 to 0... with the winning pitcher being Waite Hoyt.... and yes, Babe Ruth DID hit a HOME RUN.
I don't know why I remember this... but there was a League game in which Steve Garvey hit 4 Home Runs against Larry Steinberg... and I just had to call him LONG DISTANCE (yes, it cost a lot of money to make Long Distance calls!) to tell him about it.
Speaking of phone calls.... I did wind up playing what supposedly was the first SOM game played via Long Distance on the phone.... where both managers rolled their dice and read the results. I'd have to go back and look for the name of the other Manager.... but he was from Ohio.... and I didn't know he was using his family's WATTS line for business.... and I got phone calls later.... trying to find out how come the bill was so high.... Needless to say.... I was like "Sergeant Schultz".... "I KNOW NOTHING".... but it was kind of scary almost getting in a lot of trouble with the Phone Company.
Oh, yeah.... I have to remind YOU, Wolfman.....that I actually met YOU in Skokie, Illinois. Remember we (You, Me and Larry) flew together to New York City for the Convention. Oh, and then there was our "feud" as to who was the better baseball player and pitcher. You may have struck me out..... and maybe you were pretty good.... but I do recall I had a way better curve ball. Oh... and I'll take my lumps on this one. Yes, there was a Summertime "crush" with one of your local females.... and you had to tell everyone that I got kind of dumped.... but it actuality... it was mutual.... but we had fun.
We haven't had any really famous people join our League. I've been tempted to write to some of the famous people that play and see if they would want to join us... but I've never gotten around to doing it. We did have Mike Allison (Co-Editor of the SOM Review) as a member.
Wolfman: Does GUSSOMO have any future plans to make changes to the league structure or rules. Can you refresh our memory briefly how you organize your league and build your teams?
Jeff: No plans to change. We've been through many changes along the way. We were a STRAIGHT TEAM LEAGUE.... then we went to 24 teams. Went down to 16 teams when we made the our League a DRAFT TEAM LEAGUE. Over time, we expanded to 18 then 20 and then back to 24 teams. We also implemented a number of rules that eventually became part of the SOM game. We revised and made our own injury rules, balk rules, pick off rules, outfield throwing rules... as well as some other unique rules that we came up with.

If I could do anything else with SOM, it would be to establish a tournament whereby the winners of different Leagues (that had the same basic format) would compete at the end of their seasons and play the winners of other Leagues in order to see who REALLY HAD THE BEST TEAM... and who was the BEST MANAGER. Maybe some day I'll be able to make this happen.
Wolfman: Jeff, do you have any future goals for your team - a plan to help build a championship squad or to try different strategies?
Jeff: Just keep on trying to make the right moves... be patient.... and hope that one day, I'll be able to say that I was the Champion in my own League... and someone will give ME a TROPHY!!!
Wolfman: If you were drafting for your team next year (2015) which players (if you can say) would you keep your eye on to make Palookas?
Jeff: Oh, I really can't and don't want to say. I'm really trying to improve my team and be a better Manager. I think I'm (finally) heading in the right direction. I mean, I lost over 100 games the past two seasons (48 - 114 in 2012 and 52 - 110 in 2013... ouch!!). This year, I've kind of turned it around. I thought I might have a chance for the Playoffs... but I just don't have enough "fuel" to compete with the really strong teams..... but I'm building up my talent and have a lot of good players that have good futures ahead of them. I've already won 72 games this season and I'm on track to maybe win 85 to 90 games. So a turn-around of about + 33 or more games is a REALLY good indicator that I'm doing a better job (I think) of building my team!!
Wolfman: Is there anything else that has not been asked before, that you feel would be important for our members to know that you would like to share?
Jeff: Wolfman.... I don't think so..... I think I've touched on just about everything. I'm pooped. I've got to get back to my REAL JOB before I get in trouble..... I'm in sales (Region Manager).
Wolfman: If our members wanted to get in touch with you or had question how could they do so. What is the website of your league?
Jeff: Our web site is located at: www.gussomo.com
My e-mail address is: gussomo@comcast.net
Wolfman: Thanks Jeff for taking time out of your busy schedule to give us another look at your amazing league and all the Strat experiences you have had over the years. All the best.
(.... see below the article written about GUSSOMO by Glenn Guzzo, author of Strat-O-Matic Fanatics. )

---

They Have Lived and Loved
the History of Strat-O-Matic

By Glenn Guzzo
(Spring of 2008)

What is likely the longest-running nationwide Strat-O-Matic league with founding members has completed its 37th consecutive season of Baseball and "Ballet."

GUSSOMO (for the Greater United States Strat-O-Matic Organization), formed in 1971, is so old that it is a self-described "generational league"? – four of its members are sons of other managers and weren't even born when GUSSOMO began.
"When the league began, Strat-O-Matic had only single-sided cards and the Major Leagues had only 24 teams" said Jeff Fleischman, GUSSOMO's commissioner since the end of its first season. "Though the 2008 season was the 15th since Carlton Fisk retired, and Fisk played 24 seasons before that, this Strat-O-Matic league was born before Fisk hit his first Major-League home run."?

The league has evolved in other ways. It began as a board-game league, of course, and now uses the computer. It has 22 teams, with the latest, two-team expansion this year (both new clubs piloted by sons of longtime GUSSOMO managers). It began as a stock-team league, but has been a draft league most of the time. Its members are spread across the U.S., but about half meet for face-to-face games. The managers are serious about Strat-O-Matic, but when the whole group convenes annually, they make social time with families, sight-seeing and more, such as the "Ballets."
.
When GUSSOMO was a stock-team league in 1971, the franchise names duplicated the real Major League teams. In Year 37, the class of the league with 107 wins was the Sin City Bounty Hunters, but only four games better than the Richmond Banshees. The Concord Grape and the Chicago Mob could not keep up.
The extraordinary thing about this league, said Ralph Polumbo, whose sons John and Will also manage GUSSOMO teams, is "its longevity and the average tenure of the members" who have "shared life events" in each other's families, such as marriages and births.
"
The personal relationships and friendships," manager Larry Steinberg echoed, "held GUSSOMO together through some of the tough years in the past ", when other leagues might have folded.
Steinberg should know. He and Fleischman have been in GUSSOMO since the beginning, although other managers have been involved for 25 years and the average tenure is 20 years. His son Evan is one of the new managers this season.
"
The fact that about half the league has been active since 1990 is remarkable in itself ", former manager Vern Coffman added.
The long-timers were in high school (even junior high school) when this began. Naturally, the memories are precious:
Fleischman, who lives in Colorado after a couple of moves, was on vacation when he first visited Polumbo in his Connecticut home. "There in the kitchen, Ralph's Wife Alice was making Dinner. In the Kitcher was Ralph's youngest son sitting in a high chair. Today, that son (Will Polumbo) is a GUSSOMO manager, married and has two sons of his own!"

The "crazy teenagers" of GUSSOMO, riding the New York subway at 2 A.M. during the days of the 1973 Strat-O-Matic Convention at the Abraham & Strauss Department Store.
Long before the Computer Game, Fleischman (then living in Southern California) playing the first League Game by telephone with an opponent in Ohio. Each player rolled dice for the opposing team and announced the roll over the phone.
Since Then, the many times that League members, while traveling, went out of their way to connect with nearby League members for "face-to-face" Strat.
Steinberg recalling that it's only because of the Annual GUSSOMO League Meetings (Get-Togethers) that he and his family have visited such places as Kennywood Park in Pittsburgh, Freedom Hall in Philadelphia, Cedar Point in Ohio and the St. Louis Arch. "Best of all?" he recalled, "meeting Buck O'Neil and Double Duty Radcliffe in Kansas City at the Negro Baseball Hall of Fame."
The Annual Get-Togethers, which has attracted League members (often half or more) to such sites as Chicago, Atlanta, Philadelphia, Kansas City, Cincinnati, Detroit, St. Louis, Milwaukee, Denver, San Francisco/San Jose, Minneapolis and Pittsburgh. The events typically include a "Convention" Hotel that includes a Meeting Room dedicated for intense Strat play - with laptops everywhere - but also a Major League Baseball Game, a Family Barbecue at the Host Manager's Home and more.
"While playing our games is what the Get-Togethers are all about", Fleischman explained, we have made it a point to promote a certain level of culture and style for our Members. Over the years, we have made time to attend some of the best local Ballets, including the little known, but very popular "Cowboy Show" in Windsor, Ontario Canada."
The gathering in Detroit this past summer was the best-attended of all, suggesting that, like other things of enduring value, GUSSOMO keeps getting better with age.
(NOTES from the Wolfman: It is truly inspiring to see how the game of Strat-o-matic has affected so many people's lives and been a main focus to bring people together. We here at the newsletter would like to congratulate all the members of GUSSOMO for their dedication to the game we all love. If any of our other members have special stories they wish to share linked to SOM, please feel free to contact us. As we each share our experiences and knowledge of the game, it ultimately benefits all of our members. Thank you Fleisch for telling us your story. )