ANNOUNCING THE 2018 ANNUAL LEAGUE GET-TOGETHER
IN





SET FOR

JULY 12, 13, 14, 15 2018


We will attend a Rockies Baseball Game versus the Seattle Mariners (July)
** maybe also see Arizona Diamondbacks on the 12th **

2018 Colorado Rockies Schedule (below)


LET'S CELEBRATE DENVER WITH WARREN ZEVON....

THINGS TO IN DENVER WHEN YOU'RE DEAD!
AND OF COURSE.... JOHN DENVER'S ROCKY MOUNTAIN HIGH!
SOME REALLY FUN AND GREAT THINGS TO SEE IN DENVER...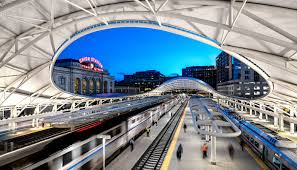 #1 in Denver
Denver's Union Station is a two for one: it's a working public transit station and a highly praised dining and shopping center. The architecture from 1917 remains in the remodeled building, which underwent redevelopment and renovations from 2002 through 2014. The station was a huge success when it first opened to the public in 1881, providing railroad service, until the center of the building caught fire in 1894. Today, it's home to an Amtrak hub and a LEED Gold-certified bus concourse. Located in the hip Lower Downtown neighborhood (aka LoDo), with multiple dining options and boutiques, and The Crawford Hotel, Union Station is also a newfound entertainment center. The boutiques sell local crafts, jewelry, flowers, fine art, furniture, books and more.
To learn more about the art, history and retail space of the station, as well as the luxury hotel, The Crawford Hotel offers tours of Union Station for $20 and the proceeds benefit the hotel's Dollars For Dreams nonprofit partners. The tour culminates at the Terminal Bar for a complimentary drink, so visitors can get the full Union Station experience.
Travelers say the best way to experience Union Station is by relaxing in the comfortable couches and chairs for some people-watching. This pastime has helped the train station earn the nickname of "Denver's Living Room." Visitors point out that the facilities are very clean for a working transportation terminal, and note that while the station is not as large as train stations in other cities, such as New York and Washington, D.C., it exudes charm. The bars and restaurants can be pricey, though, so travelers suggest grabbing a drink during happy hour.
Union Station is situated in LoDo and about 25 miles west of Denver International Airport; travelers can easily get from the airport to the train station for $9 one-way via a new railway with six stops in between. There is valet parking in a secure lot available on-site and an app that accompanies the service for easy car retrieval. The attraction is also accessible by light rail and it's within walking distance of the 16th Street Mall and the historic Oxford Hotel. For additional information, such as details on shops and eateries, head to the Union Station website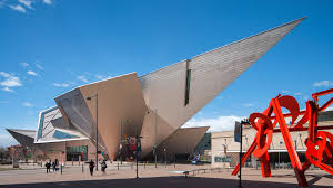 #2 in Denver
With galleries showcasing more than 68,000 works by famed artists such as Georgia O'Keeffe, Vincent Van Gogh and Salvador Dalí, the Denver Art Museum houses one of the most impressive collections between Chicago and the West Coast. Spread across two buildings, the museum's holdings range from pre-Columbian artifacts to contemporary displays with such mediums as painting, sculpture and photography all represented. One of the highlights of a visit to the Denver Art Museum is its extensive assemblage of Western American Art. Spanning both buildings, the museum's Western American galleries represent 50 years of curation — some of the works include Alfred Jacob Miller's "Shoshone Indians at a Mountain Lake," William Jacob Hays' "Herd of Buffalo" and Frederic Remington's "The Cheyenne."
At a loss of where to start? Recent visitors recommend tagging along on a guided tour of the museum. You can opt for a quick overview (about 45 minutes) of the facility's most notable works, or choose from a variety of tours that offer a more in-depth look at specific collections, as well as the museum's architecture. Tours are covered by the general admission ticket.
Red Rocks Park and Amphitheater

#3 in Denver
With its excellent views of the Rocky Mountains, miles of hiking trails and cinnamon-hued sandstone cliffs, Red Rocks Park draws many an outdoorsy traveler. Occupying nearly 900 acres, this impressive park offers visitors the opportunity to experience the fascinating geographic transition between the Great Plains and the Rocky Mountains. If you only have a short amount of time here, stretch your legs along the Trading Post Trail; this 1.4-mile-long path weaves through the rust-colored buttes, making for some spectacular scenery. Before you head out, travelers recommend stopping by the visitors center, which features information on the parks history and trails, as well as some examples of fossils found in the area.
Another big draw is the expansive amphitheater, which has hosted such headliners as The Beatles, Tom Petty and John Denver. You'll soon find (and hear) that the theater — geologically formed by the red rocks — boasts amazing acoustics and an enjoyable atmosphere. "No matter the show, I have always found myself having a good time and entirely absorbed by the majestic scene this stage sets," one TripAdvisor user said. Even if you can't fit a concert into your schedule, many visitors agree that the theater is worth a stop for the photos alone, while the park's visitors center features displays dedicated to past acts.
You will need a car to get to Red Rocks Park, which is located about 16 miles west of downtown Denver. The park is open every day from one hour before sunrise to one hour after sunset, and admission is free. You also won't have to pay to explore the visitors center, which is open from 8 a.m. to 7 p.m. from May through September and from 9 a.m. to 4 p.m. from October through April. Concert tickets vary in price depending on demand; for more information on upcoming shows and ticket prices, visit the Red Rocks Park and Amphitheatre website.

#4 in Denver
In 1858, Green Russell struck gold at the foot of the Rocky Mountains. His discovery soon spread back to the East Coast, prompting people to pick up and move west. The site of the original pioneer camp (known back then as Auraria) soon grew into the charming area now known as Larimer Square. Although the city has since expanded, this historic neighborhood remains the heart and soul of the Mile High City, and according to some, it's the place to start your Denver experience. Home to numerous restaurants, shops and nightlife venues, Larimer Square is always buzzing with life. The square plays host to plenty of festivals and street performances. As one TripAdvisor user puts it, "There is always something new, interesting and fun going on."
Before venturing to Larimer Square, you may want to pay a visit to the Larimer Square website. Here, you'll find a listing of all the local businesses and upcoming events, not to mention a printable walking tour that offers background on some of the area's Victorian-era buildings.
Occupying the block of Larimer Street between 14th and 15th streets, Larimer Square can easily be reached on foot from downtown and LoDo, while the two nearest light rail stops are Theatre District - Convention Center a few blocks southwest (on the D, F and H lines) and Union Station several blocks north (On the C, E and W lines). You can visit Larimer Square at any time of day, though businesses adhere to their own hours of operation.

#5 in Denver
The Denver Botanic Gardens' 24 acres feature 15,000 species of plants from across the globe, including more than 700 types of plants that are native to Colorado. Comprising 41 individual gardens, this impressive facility in downtown Denver's Cheesman Park treats visitors to a variety of different environments, from a traditional Japanese Garden (complete with bonsai trees) to the South African Plaza blooming with exotic plants like calla lilies and red hot pokers. Meanwhile, art aficionados will also appreciate the gardens thanks to the numerous sculptures that grace the grounds; the facility also plays host to touring exhibits that have included works by such artists as Stephen Talasnik and Dale Chihuly. If you're feeling a little overwhelmed by all the gardens have to offer, consider tagging along on a guided tour. Docent-led tours (which cost $14 for non-members) focus both on the flora and the art found throughout the facility.

Denver Museum of Nature & Science
#6 in Denver
With exhibits featuring everything from dinosaur bones to Egyptian mummies, the Denver Museum of Nature & Science inspires learning in the young and young at heart. This impressive facility houses artifacts pertaining to a variety of scientific areas, including anthropology, zoology, geology, health sciences, paleontology and space science. Some of the more popular displays include the wildlife exhibit, which includes more than 90 habitat scenes and information on animals from around the world. Meanwhile, the hands-on Space Odyssey area introduces travelers to the outer reaches of the galaxy and beyond.

#7 in Denver
Named for Denver's famed beer, Coors Field in Denver's LoDo district is home to Major League Baseball's Colorado Rockies. The stadium occupies a whopping 76 acres and has the capacity to seat more than 50,000 people. Of course, the main reason to come to Coors Field is to catch a game, but there's more to this stadium than a diamond. Whether you're traveling with children or alone, be sure to spend some time at the Interactive Area (behind the bullpens on the Main Concourse) where you can test your skills in the video batting cages and the Speed Pitch area. And if you've left the kids at home, take the opportunity to sample some of Denver's local brews on the Rooftop, a 38,000-square-foot platform with fantastic views of the field and downtown Denver. If the weather isn't cooperating, pay a visit to the on-site Blue Moon brewery instead.
Even if you aren't able to catch a game, you should still take time to tour the stadium. Guided tours (which cost $9 for adults, $7 for seniors and $6 for children ages 12 and younger) allow you to visit areas you wouldn't get to see if you simply attended a game, including the dugout, the club level and the press area. According to one TripAdvisor user, "This is a must for all Rockies fans, or any fan of baseball." Tour times vary throughout the year: During baseball season, guided tours are offered at 10 a.m., noon and 2 p.m. on non-game days and at 10 a.m. and noon when there's an evening game; during the off season, you can explore the stadium every day at noon and 2 p.m. Although reservations aren't required, they are recommended as groups fill up quickly.
Keep in mind that your best bet for scoring game tickets would be booking in advance. Detailed seating charts and ticket prices, as well as more information on reserving a spot on a tour, can be found on the Colorado Rockies website. You can reach the stadium on foot from downtown Denver — it's also near popular areas like Larimer Square and the 16th Street Mall — or via the Union Station stop on the light rail's C, E and W lines.

#8 in Denver
Modeled after a Kenyan nature preserve, the Denver Zoo is home to more than 4,000 animals, including tigers, black rhinos, kangaroos and orangutans. Sprawling across 75 acres of City Park, this impressive facility boasts a number of ways to view our furry, feathered and reptilian friends. Head to Predator Ridge, the recreated African savanna, to see hyenas, lions and African dogs roam, watch monkeys swing from tree branches at Primate Panorama or catch a glimpse of colorful critters like Panamanian golden frogs and green tree pythons at the Tropical Discovery center. You can also overload on cute during a visit to the nursery and take on a ride on the zoo's natural gas-powered train. While you're here, many travelers highly recommend timing your visit around feeding times, during which staff offers educational lectures about the zoo's residents. Keep in mind that this is a large facility; you'll want to budget plenty of time to see all the animals.

#9 in Denver
Nestled among the contemporary architecture of the Capitol Hill district is the Molly Brown House Museum, an eccentric example of Victorian life and design that no history buff should miss. Once the home of the "unsinkable" Molly Brown (Kathy Bates' character in the film, "Titanic,"), this museum offers a glimpse into Denver's history and the life of one of its most fascinating residents. On a guided tour of the house, you'll learn about Brown's experience aboard the Titanic, as well as her role in the women's suffragette movement and her endeavors to promote social reform in Colorado's mining communities.

#10 in Denver
The 16th Street Mall is to Denver what Rodeo Drive is to Los Angeles. This mile-long pedestrian thoroughfare, which stretches across the southern end of the LoDo district and bypasses Larimer Square, is lined with a variety of stores, restaurants and entertainment venues, making it a popular place to visit at nearly all hours of the day (although some travelers note that the area can feel a bit dicey at night, despite a heavy police presence). Even if you're not looking to give your credit card a workout, recent visitors recommend taking a stroll along the 16th Street Mall, as it leads to some excellent people-watching.
If you're not up for walking, hop aboard the free MallRide shuttle bus, which passes by every few minutes and stops at every street corner. According to one TripAdvisor user, "This makes the dozens of great restaurants in and around the core of downtown easily accessible since most are located within 2-3 blocks of 16th street." After sundown, skip the bus and opt for a horse-and-carriage ride instead.
The 16th Street Mall can easily be reached on foot from downtown and LoDo, or you can hop aboard the MallRide bus from either end of the street. Several light rail stops — particularly 16th & Stout and 16th & California stations on the D, H and F lines — also service the area. You can access the 16th Street Mall at any time, and there's no entrance fee; however businesses adhere to their own hours of operation. To learn more about the different shops and restaurants here, visit the 16th Street Mall's website.

#11 in Denver
Even if you hate the sound of excess change rattling around your pockets, you'll find a tour of the Denver branch of the United States Mint to be an interesting way to spend an hour or so. Having opened in 1863, its original purpose was to transform the Gold Rush's gold dust and nuggets into bars. Forty-one years later, the Mint began to manufacture gold, silver and copper coins. Today, the U.S. Mint in Denver can produce up to 50 million coins a day.
Coors Brewery FREE

#12 in Denver
Brewing since 1873, Coors has become an institution of Colorado worth visiting. "As cold as the Rockies" is a phrase we hear uttered during its commercials, and Golden, Colorado — the home of the beer company located about 15 miles outside Denver — is a great spot for you to test this advertised truth. The brewery invites you to take a self-guided tour (which should take about 30 minutes) through its facility, offering you the chance to learn more about Coors' malting and brewing processes. Along the way, you'll see how the beer is bottled and packaged Aside from the three free beer samples (or soft drinks for underage visitors), you'll also get a quick education on how beer is produced and packaged and find out more about the history of the brew. Once you reach the end of your tour, you can sample some beer in the tasting room.

#13 in Denver
If you came to Denver to experience the Rocky Mountains, you'll want to reserve a day to take a drive up to Mount Evans. In this instance, it isn't the destination that travelers rave about — it's the journey. To get to Mount Evans, you'll have to hop on the Mount Evans Scenic Byway, a 15-mile two-lane road known as the "road into the sky" because of the massive altitude change it experiences. The drive to Mount Evans' summit begins in Idaho Springs (about 32 miles west of Denver on I-70) at 8,700 feet above sea level. By the time you reach the summit of the mountain, you'll have climbed more than 5,500 feet and passed through three different types of ecosystems. Along the way, you'll find a number of lookout points from which you can admire the view of the Rockies.