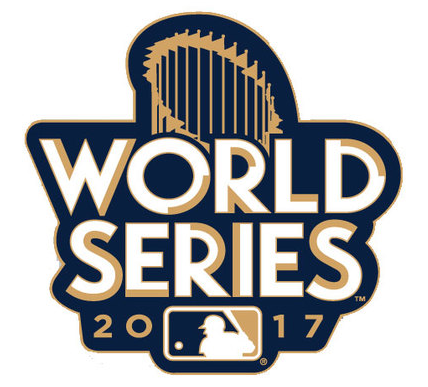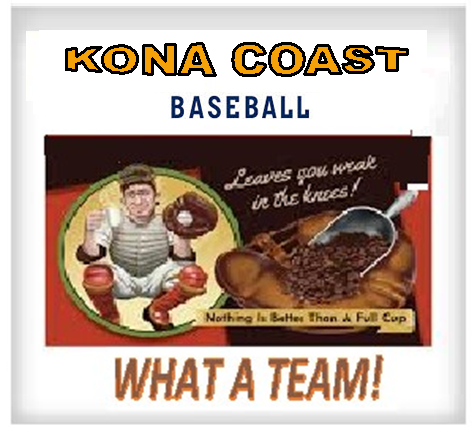 vs.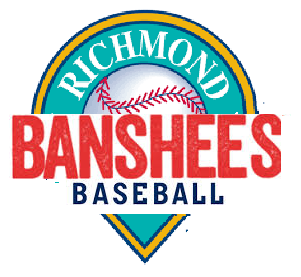 WORLD SERIES RESULTS
The Kona Coast Coffee Growers captures its first GUSSOMO championship
by defeating the Richmond Banshees 4 games to 1 game

All games were played via Net Play on Saturday, December 30. The series matched up the first World Series appearance for Kona Coast and the third time for Richmond. The series was dominated by both team's pitching staffs, as each team hit below .200 for the five game series. The Kona Coast pitching staff struck out 60 Banshees in 44 IP, allowed only 2 HRs, and pitched to a 1.64 team ERA with a 0.91 WHIP. Chris Sale won both of his games. Mad Bum, well, was Mad Bum and won his only contest. Jose Fernandez struck out 12 in each of his two games and won the clinching game in his sad farewell performance. There was not a dry eye in the house after Game 5. The Richmond staff struck out 42 in as many innings pitched, allowed 4 HRs, and a 3.00 ERA.
The dice were not in the Banshees favor, as time after time, they could not get the roll when needed (or the roll ended up on the Kona Coast pitcher's card for an out, often a strikeout). In its four losses, Richmond was 2-22 with RISP. Richmond was 3-5 with RISP in its only victory. Kona Coast was 6-27 (.222) with RISP in its four wins.
Game 1: Coffee Growers 4, Banshees 2. Francisco Lindor set the tone by launching the first pitch of series into the left field stands off Kenta Maeda, quieting the raucous Battle Grounds fans. No runner made it past first base until the bottom of the third when Richmond's Anthony Recker and Dustin Pedroia received free passes off Kona Coast starter Chris Sale. But Sale retired Dustin Fowler on a pop out and Adam Eaton a ground out to end the threat. In top of the fourth, the Coffee Growers got their first two batters on base but Max Kepler ground out into a double play and Jonathan Schoop struck out. The bottom of the fourth, again Richmond got two on with one out, this time with runners on second and third base, but Sale countered with a line out (drawing a "3" card on a 1B 1-2 LO 3-20 chance) and a fly out. In the top of the sixth, leadoff singles by the pesky Francisco Lindor and Jonathan Lucroy were followed by Jarrod Dyson's triple and a 3-0 Kona Coast lead. Steve Pearce got a run back for Richmond in the bottom of the sixth with a leadoff HR, drawing a 10 card on a HR 1-11 chance, one of the few favorable split card results for the Banshees in the series. Chris Sale continued cruising the next few innings, striking out the first two Richmond batters in the bottom of the seventh. But Dustin Fowler singled and Adam Eaton walked. Kona Coast went to the bullpen for Seung hwan Oh. Justin Turner hit a single to score Fowler and it was a one-run game again. Oh then struck out Jedd Gyorko to end the threat. In the ninth, Coffee Grower PH Miguel Sano led off versus newly inserted pitcher Dellin Betances and a clean 1-9 HR dice roll provided an insurance run. But as the game went to the bottom of the ninth, the Banshees weren't done. Kona Coast brought in Craig Kimbrel to start the inning, and he promptly struck out Anthony Recker and Dustin Pedroia. But Dustin Fowler and Adam Eaton walked, so top Richmond hitter Justin Turner strode to the plate as the potential winning run. But it was a 3-9 roll and an easy fly out to Jarrod Dyson in CF that ended Game 1.
Game 2: Banshees 4, Coffee Growers 1. Banshee Yu Darvish was dominant in his six innings of work as Richmond strung together a series of hits in the fifth inning to best Kona Coast and Jose Fernandez. The first four and a half innings flew by as Darvish and Fernandez worked quickly and faced no more than four batters in any half inning. However, in the bottom of the fifth, Zack Cozart led off with a single. Fernandez struck out Russell Martin but Mallex Smith singled on a 5-8 dice roll, a roll combination that would eventually sink Fernandez. After Pedroia flew out, Adam Eaton rolled another 5-8 and Cozart was safe on the throw to the plate and the runners advanced on the throw home. Adam Eaton rolled yet another 5-8, the third of the inning, resulting in Mallex Smith scoring and runners advancing. Justin Turner then rolled a 6-8 and both Fowler and Eaton scored to round out the big inning and 4-0 Richmond lead. Richmond, generally cursed by white dice rolls of 4, 5 or 6 the entire series, got their only breaks on the pitcher's card in this one, solitary, inning. Kona Coast manufactured its only run, unearned, on Rougned Odor's single, followed by Francisco Rodriguez' wild pitch, a base advancing ground out, and Russell Martin's passed ball. The series now moved to the Coffee Grounds for games 3-4-5, tied at one game apiece.
Game 3: Coffee Growers 7, Banshees 2. The pesky Francisco Lindor led off the bottom of first inning with a double to please the home crowd. Rattled Carlos Carrasco then walked both Jonathan Lucroy and Marcell Ozuna to load the bases with no outs. Jonathan Schoop struck out but Miguel Sano launched a grand slam on a HR 1-9 DO 10-20 with a "6" card draw. While Richmond was able to get runners on base versus Madison Bumgarner, they just couldn't get the dice rolls when it counted, a theme that played out during the entire series. The Banshees left 11 runners on base in this contest, compared to just 2 for the Coffee Growers. Mad Bum struck out 12 and managed to get the Ks when he needed them. Richmond got one run back in the fourth on a wild pitch, but Mad Bum struck out three eventually, stranding runners at first and third. In a split card draw for the ages, Max Kepler drew a "1" card on a TR 1-2 Flyout 3-20 to knock in Kona Coast's 5th run in the bottom of the fourth inning. But it was Kepler's two-base error in RF that led to the second Richmond run in the fifth inning. Mad Bum then hit two consecutive batters to load the bases before Adam Frazier grounded out. Things quieted down until the bottom of the eighth, when, you guessed it, pesky Francisco Lindor tripled. Jonathan Lucroy promptly singled him home. PR Jake Marisnick was then doubled home by Marcell Ozuna. In the ninth, Dylan Bundy mopped up with three quick outs, two by strikeout (naturally), to give the Coffee Growers a 2-1 lead in the series.
Game 4: Coffee Growers 4, Banshees 1. Chris Sale won his second game of the series with a masterful 5-hit, 9-K complete game. The first 2-1/2 innings were uneventful as both Sale and Richmond's Kenta Maeda were in top form. With two outs in the bottom of the third, Jurickson Profar and pesky Francisco Lindor worked walks. Jonathan Lucroy singled in Profar for the game's first run. Sale and Maeda resumed mowing down each other's lineup until the bottom of the sixth. Three consecutive singles by Jonathan Lucroy, Jarrod Dyson, and Rougned Odor plated the Kona Coast's second run and a first and third situation. Rougned Odor took off for second and Russell Martin's throw sailed into CF, moving Odor to 3rd and scoring Jarrod Dyson. Jonathan Schoop hit a sacrifice fly, and suddenly it was 4-0. Richmond avoided a shut out on Dustin Fowler's solo HR in the eighth, but the Coffee Growers were in control now, 3 games to 1.
Game 5: Coffee Growers 1, Banshees 0. In a fitting tribute to the late Jose Fernandez, who got 26 outs, 12 by strikeout, Seung hwan Oh (and Kona's 2017 first round draft pick) struck out Jedd Gyorko to secure Kona Coast's first GUSSOMO championship. The Banshees best shot came in the first inning, with Dustin Pedroia doubling to lead off the game. But in true Fernandez fashion, he struck out the next two, threw a wild pitch, and then got the dangerous Justin Turner on a ground out. Turner would go 0-3 in the game with RISP. Jonathan Lucroy's 1-4 dice roll, a pure HR in the bottom of the third, was the only scoring. Otherwise, Yu Darvish was just as dominant as he was in game 2: the Coffee Growers left only 3 men on base. The game was a classic Coffee Grounds, pitcher dominant, game.
I thank Kevin for a great Net Play experience. We had a lot of fun on the phone while we played the series. The Kona Coast Coffee Growers tip their cap to a great Richmond Banshees team and their remarkable manager, Kevin Martin. I told Kevin he can torture me by picking "my guys" one slot before me in the next draft. But I'm very happy to be drafting 24th.
DATE VIS R H E HOME R H E INN WIN LOSS
----- ------------ ------------ --- -------------------- -------------------
10/29 KCC 4 7 0 RIB 2 7 1 C.Sale (1-0) K.Maeda (0-1)
10/30 KCC 1 3 0 RIB 4 10 0 Y.Darvish (1-0) J.Fernandez (0-1)
11/ 1 RIB 2 7 1 KCC 7 6 1 M.Bumgarner (1-0) C.Carrasco (0-1)
11/ 2 RIB 1 5 1 KCC 4 7 1 C.Sale (2-0) K.Maeda (0-2)
11/ 3 RIB 0 2 0 KCC 1 6 0 J.Fernandez (1-1) Y.Darvish (1-1)

MVP AWARD                               CY YOUNG AWARD

C.Sale(KCC) 596                         C.Sale(KCC) 158

F.Lindor(KCC) 304                       J.Fernandez(KCC) 75

J.Lucroy(KCC) 152                       M.Bumgarner(KCC) 39

D.Fowler(RIB) 99                        Y.Darvish(RIB) 12

D.Pedroia(RIB) 47                       D.Betances(RIB) 4