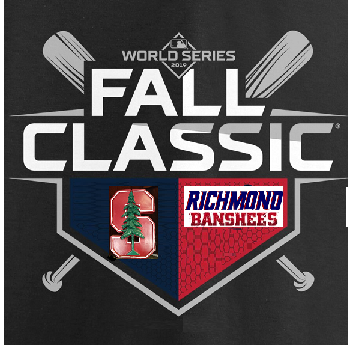 All games have been NetPlayed


Game 1 - Jose Berrios vs. Corey Kluber. Both SP's pitched very well, but were long gone before this one ended. Berrios went six innings and allowed three hits, two runs, walked one and struck out seven and left the game with the score tied at two. Anthony Rizzo tagged Berrios for a solo shot, one of his two hits on the afternoon. Kluber went six innings, seven hits, two runs, walked three and struck out six. Adam Frazier rocked the third pitch of the game into the stands; Kluber left the game tied. The game is turned over to the bullpens in the seventh and not much happened as the game remains tied at two into the 15th inning. Stanford did load the bases in the 12th and 14th innings only to have the Banshees escape. Stanford's fortitude came through in the bottom of the 15th versus Kenta Maeda. Byron Buxton led off the bottom of the 15h and lined out; Ben Zobrist then struck out, but wait, Yan Gomes cannot handle the pitch in the dirt and allows Zobrist to reach first safely. Zobrist steals second in front of Buster Posey's walk-off double and a 3-2 Robber Baron victory. Lou Trevino picks up the win in relief throwing a singe shutout innings allowing a hit and a strikeout. Adam Eaton and Mookie Betts each had three hits for their respective teams.

Stanford takes a 1-0 series lead.

Game 2 - Carlos Carrasco vs. Gerrit Cole. This one was a wild affair and neither starter was around for the fun. Carlos Carrasco kept the Robber Barons at bay with six innings allowing three hits, two runs, two walks and three strikeouts. Gerrit Cole did not quite fare as well, going 6 2/3, nine hits, five runs, three walks and seven strikeouts. Richmond jumps to a 5-2 lead in the top of the seventh. Stanfords offense is strong and claws back with a single run in the seventh, two in the eighth (one scored on a two-out error by Adam Frazier) to tie the game at five apiece. Wonderkid Ben Zobrist (remember, he's the craphole that struck out but got on base with a passed ball in the 15th of game one and ended up scoring the winning run in game one); walks it off with a jack off Seranthony Dominguez' card for the 6-5 victory sending the Robber Barons home crowd into mild hysteria. Once the play by play files are released, you will see all the damage in each of the three innings where Stanford scored four runs was done on Richmond bullpen's cards (this sucks, as my bullpen was a strength throughout the season; and is 0-2 after the first two games of the series). Justin Turner homered for Richmond; while Lorenzo Cain had three hits.

Stanford leads the series two games to zero.

Game 3 - Luis Severino vs. Charlie Morton. It appears both teams wanted to spare the bullpen in this game. Richmond came out swinging and took at 6-3 lead after three innings that eventually holds up for the final score. Charlie Morton comes up one batter shy of a complete game going 8 2/3 giving up four hits, three runs, three walks and seven strikeouts and picks up the all important win. Luis Severino did not do as well, 7 2/3, 10 hits, six runs, four walks and eight strikeouts. Seranthony Dominguez was called upon to strikeout the last batter of the game. Yan Gomes had a big blow for Richmond with a three-run shot enroute to four rbi on the game.

Stanford leads the series two games to one.

Thanks to Shoe for the Netplay; this has been a fun series with both teams failing to capitalize on opportunities to put the games away. Hopefully the bullpens rest as the pending games should be fun.

MORE TO COME!!!
Stanford holds a 2-1 series lead as play resumes via Netplay

Game 4 - Corey Kluber vs. Jose Berrios. Both starters were on point as the series continues in Richmond and the teams head into the bottom of the 9th tied at one. Richmond jumped on the Robber Baron pen after two outs with a single, single and then a Matt Adams pinch hit three-run walk-off jack. Adam Frazier led off Richmond with a homerun (his second lead-off homer of the series) and Nolan Arenado had a solo shot to tie the game in the 9th. Kluber went 8IP allowing two hits and a run, walking one and seven strikeouts. Berrios went six innings, three hits, 0 runs, a walk and six strikeouts. Sean Doolittle takes the loss; while Seranthony Dominguez blows his second save of the series, yet picks up the win in relief.
Series tied at two games.

Game 5 - Gerrit Cole vs. Carlos Carrasco. Carrasco did not have his "stuff" in this one giving up a big fifth inning with allowed Stanford to go up 4-0. Wilson Ramos had the big blow with a two-run tater. The Banshees attempt to claw back in it, but the Robber Baron bullpen was not having it. Nick Markakis and Eduardo Escobar went solo for Richmond. Carrasco goes seven innings, seven hits, four runs and five strikeouts with the "L". Cole went six strong giving up four hits, two runs, two walks and seven strikeouts.
Stanford takes a three games to two lead back to the bay.

Game 6 - Charlie Morton vs. Luis Severino. Neither starter was around long and both struggled in this game as Stanford led 4-1 after two innings. Richmond claws back in to tie the game in the fifth, then two more in the eighth. Stanford scraps a fifth run, but the Banshee bullpen closes the door on the 6-5 Richmond win to force a game seven. Kenta Maeda picks up the win with two and a third scoreless pitching; while Diego Castillo picks up his first save of the series. Collin McHugh takes the loss giving up two in his two innings. Justin Tuner had three hits and three rbi for Richmond. Mookie Betts had three hits for Stanford.
Series tied at three

IT COMES DOWN TO A WINNER TAKE ALL GAME SEVEN!!

Game 7 - Jose Berrios vs. Corey Kluber. This game started wild as the score was tied four apiece after two innings. Two of Stanford's runs were unearned as Adam Eaton took a bad route to a fly ball and then botched it for a two base error. THEN...neither team scores again until Richmond breaks through with a run in the top of the 15th innings (second 15 inning game of the series). Berrios went six innings, six hits, four runs, two earned, five strikeouts. Kluber went 6 2/3 innings, seven hits, four runs, two walks and nine strikeouts. Richmond had runners in scoring position in the 8th and 12th innings and could not capitalize. Stanford's offense was quiet with the exception of a runner on third in the 14th. Moving into the top of the 15th; Richmond breaks through with a ground out, pinch hit double by Asdrubal Cabrera. Lorenzo Cain then singled in Cabrera for the go-ahead 5-4 lead (Richmond ened up loading the bases after Cain's single, but could not add insurance (would that be costly?). We move to the bottom of the 15th with the World Series title on the line. With Kenta Maeda pitching; Ben "Freakin" Zobrist leads off with a single off his card. Alex Pollock follows with a single and error by Eduardo Escobar off the pitchers card putting the runners on 2nd and 3rd with no out. Richmond walks Andrelton Simmons to load the bases with no out. Framber Valdez is brought into face Charlie Blackmon and subsequently strikes him out. Mookie Betts steps to the plate and the home crowd is roaring. Mookie proceeds to slap a single (off his card to claim the series MVP) into right and Zobrist and Pollock sprint around the bases to claim the series title.

Congratulations to Shoe as he had a powerful Stanford team all season long and my team was lucky to hang with them as we did!