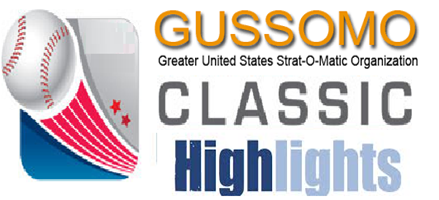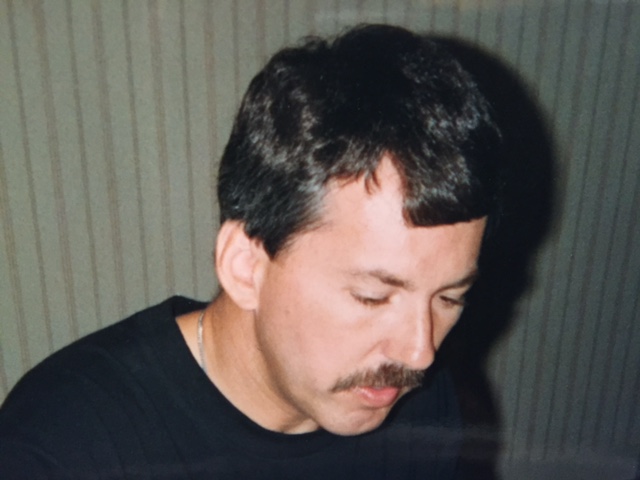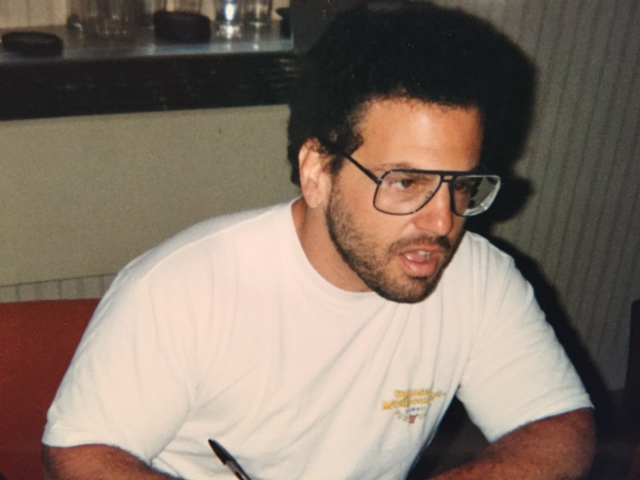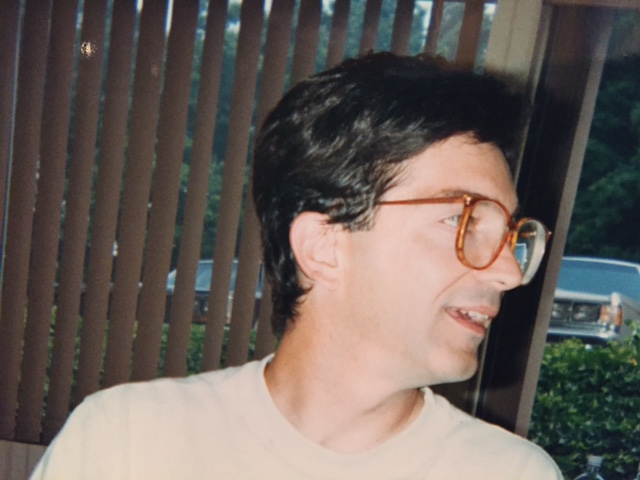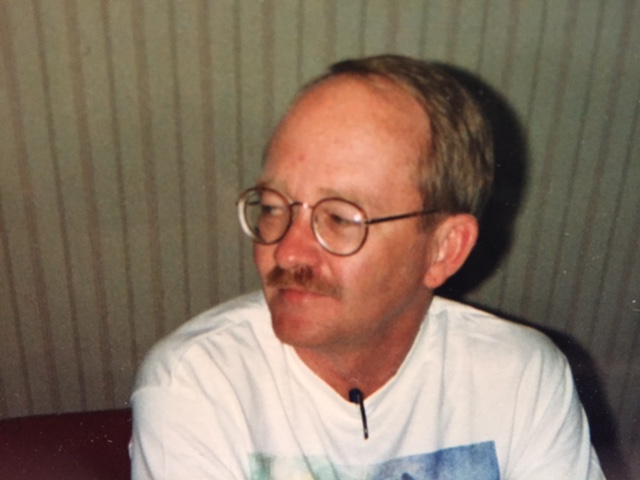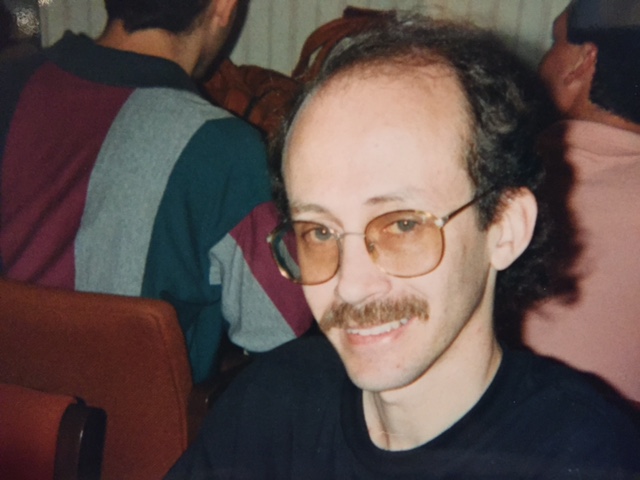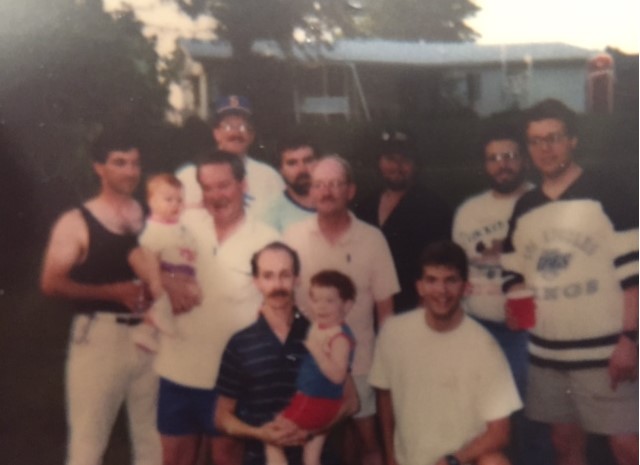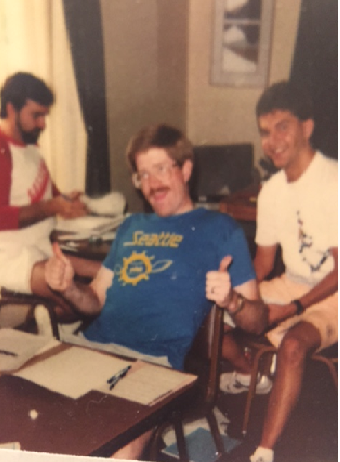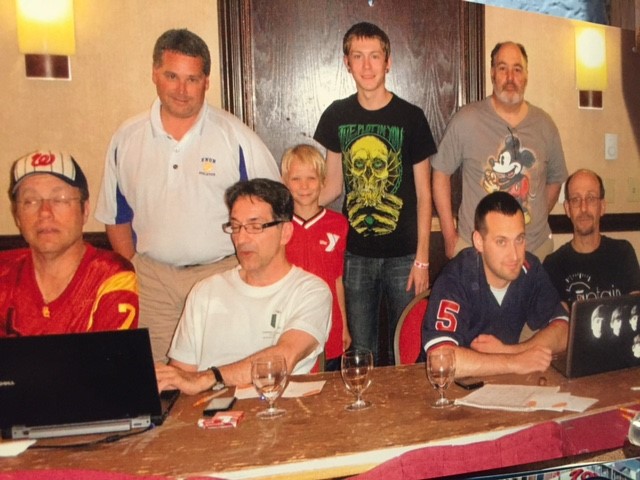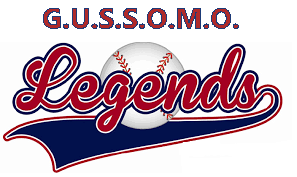 Pictured above -- from many years ago.... (Top Row) Bob Galvin, Mike Lefkow, Ralph Polumbo
(2nd Row) Earl Brock, Jeff Fleischman (ugh! Look at those glasses and hair!), Dave Hendricks
(3rd Row) Dave "Peach Taylor, Larry Steinberg, Kevin Martin
(Bottom Row) Group Picture at Get-Together in St. Louis, MO, Jim Phelp (c) Steve Harvey (r),
Group Picture in Washington D.C.2011 -- left to right (front) - Jeff Fleischman, Ralph Polumbo, Will Polumbo, Larry Steinberg.. (rear) Kevin Martin and Son, Evan Steinberg, Andy Rosenberg
BUT WAIT.... THERE'S MORE!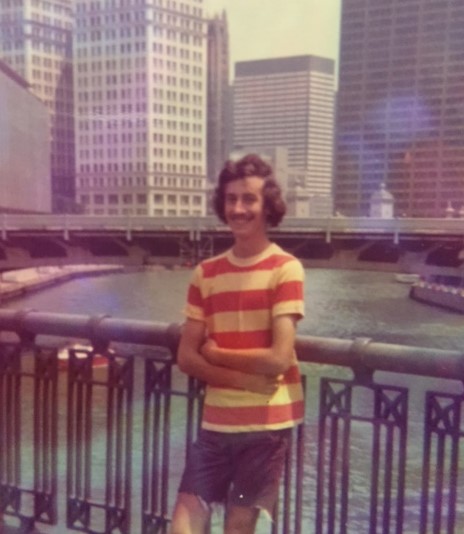 "YOUNG" LARRY STEINBERG - 1973
HAVE WE BEEN TO COMMISKEY PARK BEFORE?

WELL, UH.... TRYING TO REMEMBER.

OH YES! LARRY STEINBERG and JEFF FLEISCHMAN MET IN PERSON FOR THE 1ST TIME IN 1973 (YIKES!! 48 YEARS AGO) AND WENT TO SEE THE RED SOX and WHITE SOX PLAY A DOUBLE HEADER.

WE SAT OUT IN THE CENTERFIELD BLEACHERS... AND LISTENED TO HARRY CAREY BROADCAST THE GAME IN "SHIRT SLEEVES" .... FROM THE BLEACHERS.... SITTING ONLY A FEW FEET FROM US! WE ALL CALLED OUT TO HARRY... TO "SALUTE US" WITH HIS FALSTAFF BEER....AND HE DID. HE EVEN RECOGNIZED JEFF ON THE RADIO... TELLING HIS LISTENERS THAT "WE HAVE JEFF FLEISCHMAN FROM DOWNEY, CA JOINING US AT THE BALLPARK TODAY".... IT WAS REALLY COOL... ESPECIALLY WHEN YOU'RE 18 YEARS OLD!!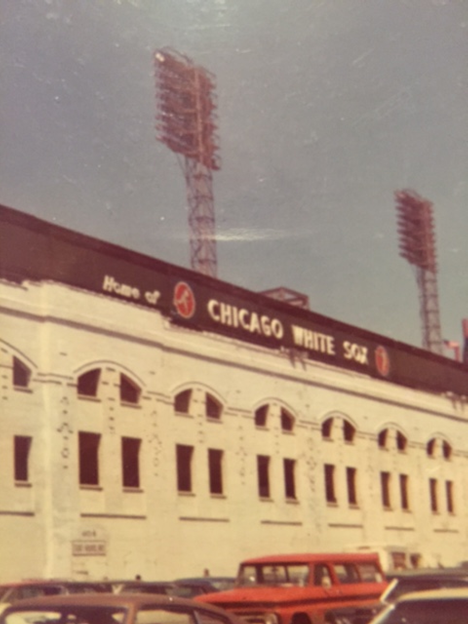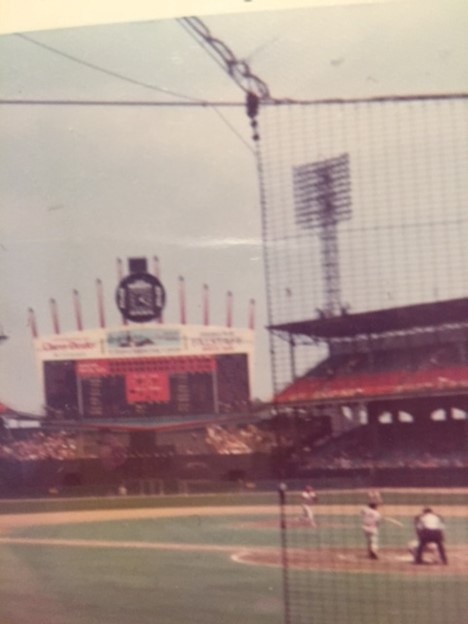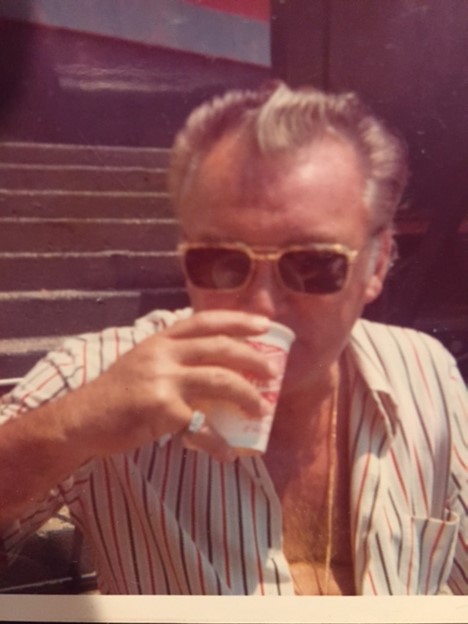 IF YOU CAN BELIEVE IT...
THAT'S HARRY... SALUTING US WITH HIS FALSTAFF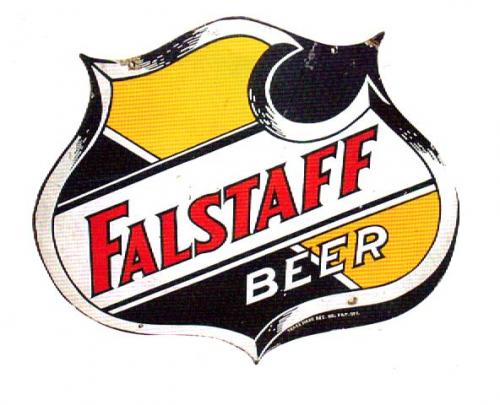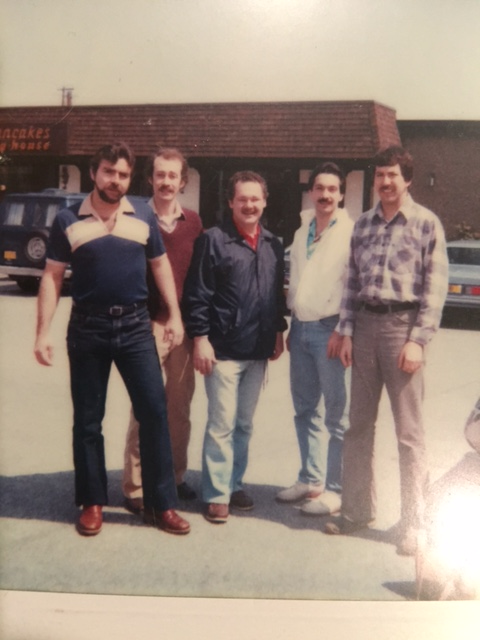 FIRST LEAGUE GET-TOGETHER (HARRISBURG, PA)
L to R - EARL BROCK, LARRY STEINBERG, DAVE HENDRICKS,
RALPH POLUMBO and BOB GALVIN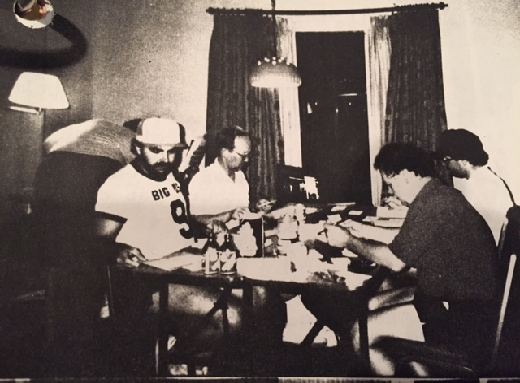 FRONT (L) EARL BROCK vs (R) DAVE HENDRICKS
REAR (L) DAVE "PEACH" TAYLOR vs. (R) BOB GALVIN
WEEK 17 - GAME 3 -- STALLIONS at GEORGIA

29,281 Redneck fans were treated to a fine game at Crackerland Park as only one run separated the combatants at game's end. The Georgia Crackers won by the slimmest of margins, 4 to 3.
The score was tied at 3 after nine, but Georgia came out on top in the 11th inning. After two outs were recorded in the 11th, Hideki "Yankee Boy" Matsui drew a walk. Ichiro Suzuki was next up and he also drew a walk. Fernando Cabrera lost his composure and uncorked a wild pitch. Cabrera, feeling the Southern Heat in "Hot-lanta" then threw a high and inside pitch that got by the catcher. It was ruled a passed ball, making Georgia the winners and sending the 7,685 fans home happy (the other 21,596 fans left early when Crackerland Park ran out of "Billy Beer" in the 5th inning!). Georgia had a total of 7 hits for the game.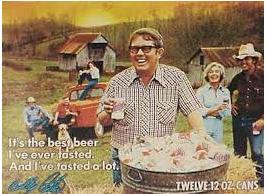 Mariano Rivera (3-0) picked up the victory, allowing no runs in 3 and 1/3 innings. Cabrera (0-1) was a bit out of kilter and was tagged with the loss in relief. His performance was as useful as a pogo stick in quicksand. But, he was the hard-luck loser as he did not allow an earned run in his 1 and 2/3 innings of work.
With this victory, Georgia continued their winning ways as their streak now stands at 6 games and counting. Manager Dave "Peach" Taylor was in a very talkative mood after the ballgame. "Damn, Fella's, I really don't know what else I can tell ya, cept, you know what they say... A wink is as good as a nod, to a blind horse, and that Cabrera fella was bringing up the rear today. But that don't matter much to me, cause we'll take a win any way we get one. And from my point of view, that win was huge... in fact, it was as purty as a speckled pup under a red wagon . All I can say is, Damn. All our guys over the past week or so are just playing lights out. Damn, my boys, they're really are hitting on all cylinders. Everything is working. Ya know, we keep this up and, well, we'll be fixin' to go to the playoffs. I know it's a long shot, but ya never know. "Damn, I know it can't last forever - but then again, Damn, it sure ain't gonna stop us from trying!"
WEEK 14 GAME # 1 - PINEY CREEK at ITALIAN STALLIONS

Bronson Arroyo tossed a complete game and Matt Joyce connected with a "towering Home Run" and had 5 RBI as the Italian Stallions CRUSHED THE PINEY CREEK PALOOKIAS 14 TO 2.

Joyce made sure the Italian fans enjoyed themselves. He laced a Single in the 2nd inning, rifled a 3-Run blast in the 5th inning and Doubled bringing in a run in the 7th inning. In between innings... he did MAGIC TRICKS, JUGGLED BASEBALLS and WENT UP INTO THE CROWD TO PARTICIPATE IN THE "KISS CAM" WITH EVERY "MILF" HE COULD FIND IN SECTION 115. Italian managed 16 hits in their victory.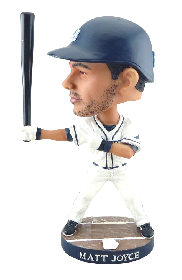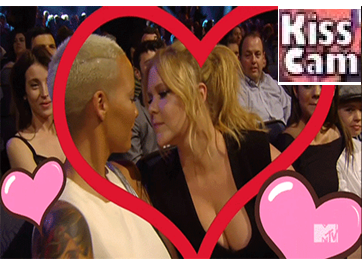 The win went to Arroyo (4-11) who allowed 2 runs in the game. Charline Morton (2-4) was the losing pitcher. His ERA ballooned from 5.40 to 5.93 as he allowed 14 runs in 8 innings. (What kind of Manger leaves a Pitcher in the game THAT long???). The win by Italian is a very welcome one as they have been struggling in recent days. Their record now stands at 38-44 (only 1-9 in the last ten games). Jeff Fleischman was pretty down after the loss. "We've really been sputtering along lately, something like 1-9 in the last week or two. That won't get it done... and I KNOW the Owners of the ball club are getting pretty disappointed in all of us!
WEEK 25 - GAME 1 -- MISSOURI at PINEY CREEK
A record crowd of 56,872 was on hand to see President George Dubbya... Dubbya... Dubbya Bush throw out the 1st pitch...

and later see
Ronnie ("Wanted Poster)" Belliard
hit one into the "cheap seats" at Centennial Field as the Piney Creek Palookas came back dramatically to top the Missouri Mustangs by the score of 4 to 3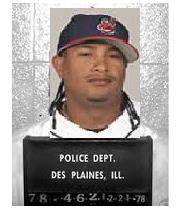 Piney Creek came through with the game-winning runs in the 9th inning with 2 runs using 4 hits. Rajai Davis started the inning off right when he ripped a base-knock. Jeff Fleischman then called for a steal which was successful. Ryan Garko then doubled bringing in a run. Adrian Beltre was up next and he stroked a one-base hit. Kenji Johjima stepped into the box and drew a walk to load the bases. Raul Ibanez continued the rally and laced a base-hit giving Piney Creek the win and sending the home town fans into a frenzy. Piney Creek had 10 hits for the afternoon while Missouri had 5.
Manny Corpas (5-3) was the winner allowing no runs in 1 inning. Chad Cordero (3-5) was the loser in relief. He allowed 4 hits and 1 walk without retiring a batter
Corpas and Belliard were REALLY whooping it up in the clubhouse... but without an interpreter... nobody could understand what they were saying. Coincidentally, Chico Escula happened to walk into the locker room from the Whirpool area... he heard part of what was said... and it wasn't "Biesball been berry, berry, goood to me".... He thought they were saying "El Gerente es un Idiota".... but shook his head and said... No, No... That couldn't be right... especially after a great come-from behind victory. As Jeff Fleischman noted, "A win like this one can do wonder for a team's attitude." Everyone shares in the joy... the fans... the players... even you $@&*! Reporters... with all the ugly lies and rumors that you guys have been writing and making up about us all year... just to sell your lousy, stinking paper...." But you guys wanna know something?? Winning a game like this one is better than winning by a dozen runs!"