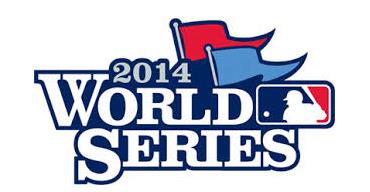 2014 WORLD SERIES
Busters Battalions come to Terrapin Station to start the 2014 World Series vs. The Chicago Mob
GAME 1: Clayton Kershaw vs. James Shields
Both pitchers are a bit shaky in the first inning with both letting 2 men on base but no damage is done. James Shields walks the first 2 batters in the 2nd, but then strikes out the side. In the Mob 2nd with 1 out, Josh Satin singles and Jacoby Ellsbury walks, bringing up Denard Span. Span cracks one into the right centerfield gap, making it all the way to 3rd on a bases clearing triple. Jose Altuve is instructed to lay down a squeeze bunt and he does beautifully with Altuve scoring to make it 3 - 0 Mob. In the top of the 3rd, Jose Tabata gets a one out walk, steals second and scores on a Adam Jones single, but Chicago gets that run back in the bottom of the 3rd on singles by Jhonny Peralta and Jose Lobaton followed by a Josh Satin double. Chicago adds to the lead in the 4th when Altuve singles home Span who had walked and went to 2nd on a groundout.
James Shield had settled in and was having no trouble with Busters since the 7th, but gives up a lead off home run to Aaron Hill to make it a 5 - 2 game. Manager Fred Turtle summons Tanner Roark. Roark gets pinch hitter Hank Conger but gives up a single to Adam Jones. Jones steals 2nd but Roark is able to get the next 2 to end the threat. Mob closer Grant Balfour comes in to pitch the 9th and with the Mob faithful on their feet, rewards Fred with a 1,2,3 inning and The Mob take game 1. James Shields struck out 11.
FINAL: Chicago 5 Busters 2 WP - James Shields LP - Clayton Sv - Grant Balfour.

GAME 2: A.J. Griffin vs. Jovani Gallardo

It's a happy partisan crowd in Chicago, looking for their club to take a 2 - 0 lead in the series. Buster starter A.J. Griffin has other plans by striking out the first 4 Mob batters and allowing nothing in the first 2 innings. Gallardo has an easy first 2 innings but runs into trouble in the 3rd. Alex Avila leads off the inning with a single, followed by a single from Rajai Davis. Aaron Hill is next, and he laces a single, scoring Avila and sending Davis to 3rd. Jose Tabata hits a ground ball. Davis holds 3rd as HIll moves up to 2nd. In a rare move, manager Fred Turtle decides to intentionally walk Adam Jones, loading the bases for Carlos Santana. Carlos shows why Fred rarely does this by stroking a single to left. Davis scores and Trumbo's throw home gets by Salty allowing both Hill and Jones. David Freese then singles home Santana and it's suddenly 5 - 0 Battalions. In the bottom of the 3rd, Chicago gets a 2 out walk from Satin followed by a double by Craig Gentry but Griffin pops out Altuve to end the mild threat.
Fred lets Gallardo take the mound to start the 4th but again, runs into trouble. Chad Gaudin is summoned and is able to end the Battalion rally with no runs scoring. Griffin, meanwhile is taking care of business, not allowing anything in the 4th or 5th and a harmless single in the 6th. Gaudin is doing well to hold Busters but gives up doubles to Jene Segura and Adam Jones in the 7th for a 6 - 0 game. Busters adds a run in the 9th and A.J. Griffin is able to finish the game.
FINAL: Busters 7 Chicago 0 WP - A.J. Griffin LP - Jovani Gallardo

GAME 3: Matt Harvey vs. Travis Wood
Chicago hopes to forget their embarrassing loss in game 2 as the series moves to Dogbone Meadows for game 3. Things get off to a bad start for Chicago, though, when Harvey gives up a lead off single in the 1st to Jene Segura, who promptly steals 2nd. Ed Lucas then grounds one to Kyle Seager at 3rd, who let's it go through the wickets for a 2 base error and a 1 - 0 Battalion lead. Back in the dugout after the inning, Fred Turtle has a mini team meeting telling the guys to get their heads out of their butts and start playing some baseball. The team responds. Jhonny Peralta gets a 1 out walk and Jose Lobaton singles him to 3rd. The Josh Satin strikes out but Jacoby Ellsbury and Denard Span single, good for 2 runs and the lead. In the Mob fourth, again after 1 out, Peralta singles and Lobaton doubles him to 3rd. Josh Satin this time comes through with a single scoring Peralta and Ellsbury follows with a double scoring Lobaton. Buster manager Andy Rosenberg has seen enough of Wood and has Greg Holland come in to end the inning with Chicago leading 4 - 1.
Matt Harvey has been excellent for Chicago since his first inning jitters but then runs into 5th inning trouble. A leadoff walk by David Freese is followed one out later by Rajai Davis' single. Davis steals second. Freese scores on Segura's ground ball and Harvey fans Aaron Hill to end the inning but it is now 4 - 2. Buster's rallies again in the 6th. Hill singles to lead it off, but Adam Jones hits into a DP. Harvey however has lost it, loading the bases on a hit and 2 walks. With righty Michael Morse due, Fred goes to the bullpen and summons lefty Brett Oberholtzer. The first round pick responds by having Morse hit a soft liner to SS to end the inning a preserve the lead. Oberholtzer pitches a scoreless 7th and Tanner Roark a scoreless 8th. Chicago picks up an insurance run in the 9th on back to back doubles by Gentry and Altuve. Grant Balfour is summoned to close and has another 1, 2, 3 inning to give Chicago a 2 - 1 series lead.

FINAL: Chicago 5 Busters 2 WP - Matt Harvey LP - Travis Wood Sv - Grant Balfour.

GAME 4: James Shields vs. Clayton Kershaw
It's rematch time and a large, boisterous crowd has packed Dogbone Meadows to inspire their team. Chicago quiets them early when Mark Trumbo sends a Kershaw fastball into the left field seats for a home run (the first one of the series). Shields holds Buster scoreless the first 2 innings, but gets into trouble in the 3rd. Segura gets a 1 out single and steals 2nd. Shields then uncorks a 57 footer that allows Segura to take 3rd. Shields then composes himself and strikes out Tabata but Hill slaps a groundball past Peralta to tie the game at 1. Kershaw has been in good form, keeping Chicago off the scoreboard since the 1st. Shields has also been good, but Busters finally gets to him in the 5th with 4 straight singles to start the inning, good for 2 runs. Chicago catches a break when Carlos Santana clobbers one, right to Altuve who is able to double off Hill at first for an inning ending DP.
In the top of the 7th, Kyle Seager leads off with a walk and Jhonny Peralta bloops a double with Seager holding at 3rd. Jose Lobaton follows but Kershaw strikes him out. Josh Satin is due up. Fred decides to stick with his hot first baseman and is rewarded when Satin hits one off the wall for a 2 run double that ties the game at 3. Andy Rosenberg has seen enough and sends in Aroldis Chapman to try and stop the Mob uprising. Chapman walks Ellsbury but then strikes out Span. Rosenberg then summons Greg Holland to pitch and Fred Turtle counters with Adam Lind. Holland is careful with Lind and walks him to load the bases for Jose Altuve. Altuve sends one into the gap in right center but Adam Jones is able to track it down and end the inning.
Oberholtzer and Roark were able to keep Busters scoreless in their last 2 at bats. Fred Turtle decides to start the 8th with Anthony Varvaro. He gives up a lead off single to Santana and Chris Owings sacrifices him to second. David Freese is next and Fred calls for Chad Gaudin. Freese grounds out for the 2nd out with Santana taking 3rd. Fred then decides to intentionally walk Alex Avila to face Rajai Davis. Andy Rosenberg counters with Matt Davidson. Davidson delivers a double that scores both runners and returns the 2 run lead to Busters. Again, the intentional walk bites Chicago. Greg Holland in his 3rd inning of work pitches a 1, 2, 3 ninth to tie the series.
FINAL: Busters 5 Chicago 3 WP - Greg Holland LP - Anthony Varvaro
GAME 5: Miguel Gonzalez vs. A.J. Griffin
A big game for both teams. Both bullpens are gassed. Chicago hopes to figure out Griffin and goes with Miguel Gonzalez, who did well in the divisional series'.
Chicago still can't figure out A. J. Griffin as Griffin pitches a perfect first 3 innings. Fortunately for Chicago, Gonzalez keeps Busters off the board early, although allowing 3 walks and a couple of singles in the process. Griffin tosses a perfect 4th inning but Gonzalez can't say the same. Walks to Alex Avila and Ryan Sweeney brings up Rajai Davis who singles to load the bases. Jean Segura hits a fly to CF, deep enough to score Avila. Aaron Hill and Carlos Santana single and before the dust clears, it is 3 - 0 Busters.
Seth Smith ends Griffin's perfectness leading off the 5th with a solid double, but Griffin gets the next 3. In the bottom of the inning, after 2 outs, Gonzalez walks the next 2 batters. Fred Turtle calls for Ernesto Frieri, who gets Davis to end the inning with no damage. Griffin is perfect again in the 6th. Frieri can't say the same, allowing 2 runs to score before Brandon Kintzler is summoned to stop the bleeding. Griffin (take a guess) is perfect in the 7th but shows he is human by walking the lead off batter in the 8th........... who is promptly erased in a DP. Busters adds an insurance run in the 8th, like they needed it the way Griffin was pitching. In the 9th after one out, Griffin walks Ellsbury and hits Craig Gentry with a pitch. But it's only false hope as he gets both Altuve and Lind to fly out to end the game. A one hit shutout, allowing only 2 walks a HBP with 6 K's.
In 2 games A.J. Griffin has thrown 18 innings, allowing all of 3 hits, 6 walks and 12 strikeouts. Oh, and no runs allowed.
FINAL: Busters 6 Chicago 0 WP - A. J. Griffin LP - Miguel Gonzalez.
The series had to be stopped at this point and will continue Sunday morning. Busters Battalions has Chicago on the ropes with a 3 - 2 series lead. This manager has been down 3 - 2 before and has come back to win and has also been up 3 - 2 and 3 - 1 only to lose the series so it is certainly possible Chicago can pull it out, especially since Griffin is done (though he could relieve if needed). A big key is that Chicago has not been able to stop Busters running game. Buster has stolen 12 bases, 7 by Jean Segura, with nary a caught stealing. Chicago will also have to face Kershaw if there is a game 7. Even though he has not been that great this series, it is still Clayton Kershaw. Manager Fred Turtle has not decided on his starting pitcher for game 6. He has instructed the team to relax. Only a light workout is scheduled for the off day. Will send all game files at the series conclusion.

2014 LEAGUE CHAMPION -- ANNY ROSENBERG -- BUSTER'S BATTALIONS
It's been a gas playing the games with Andy over the phone with his dog barking away at seemingly appropriate moments. See you later.
Larry