HALL OF FAMERS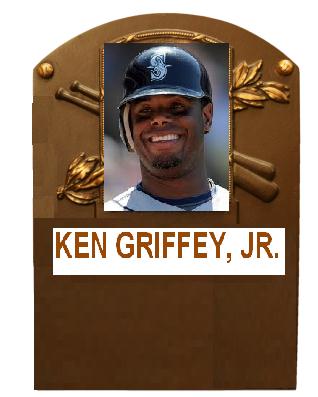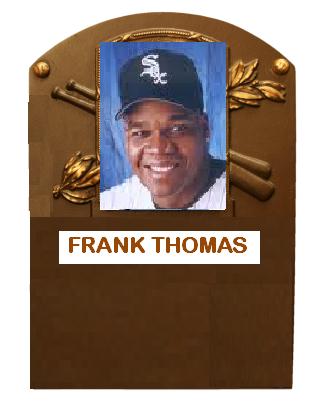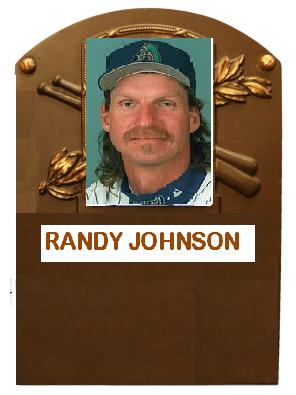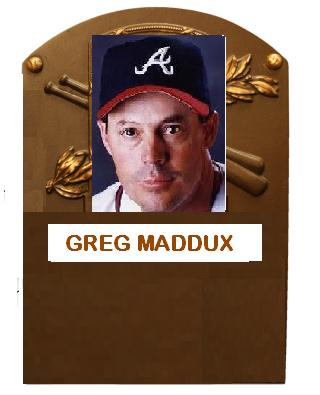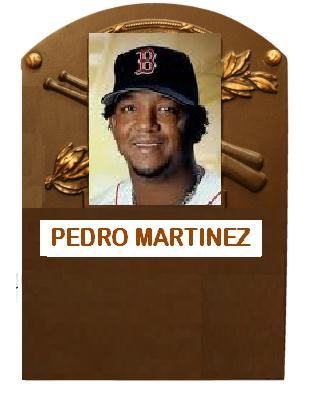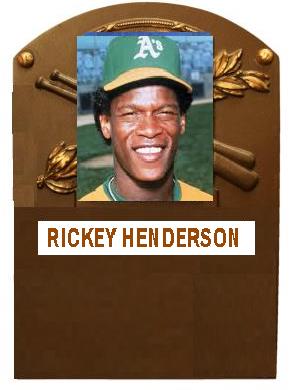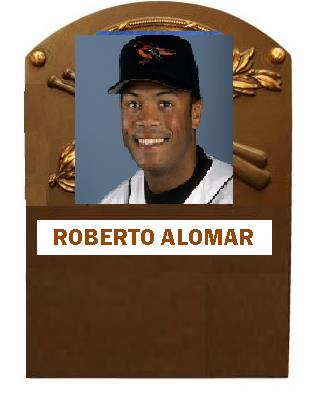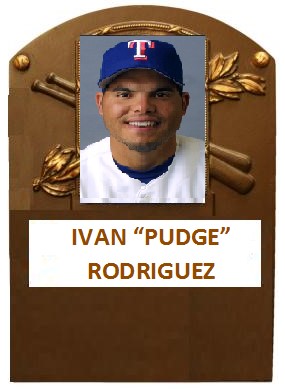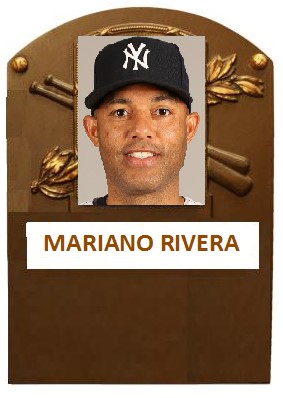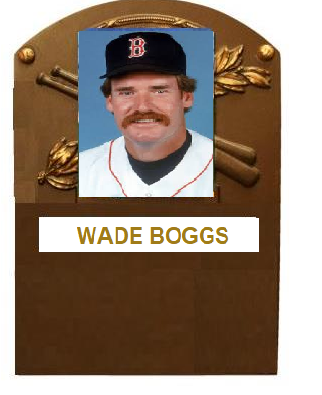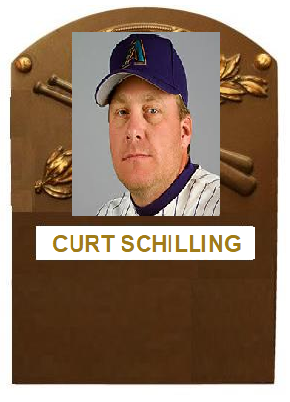 2017 HALL OF FAME VOTING and RESULTS

The voting is in! We have two new inductees this year!
WADE BOGGS, 3B (69% of the vote)
We have incomplete stats for Boggs - only 10 seasons - but in those 10 seasons, he did what was known to do: pile up hits and walks. From 1983 to 1992, Boggs had 1,871 career hits to go with 833 walks. Over those 10 years, he sported a 328/414/459 slash line.
CURT SCHILLING, RHP (69% of the vote)
We've got numbers for Schilling all the way back to 1991 (thanks Larry!). Schilling appeared to be a much more borderline candidate, and it took the voters 5 years to induct him. His body of work is impressive, with a 203-154 record and 3,076 career strikeouts.
ALSO RECEIVING VOTES AND STAYING ON THE BALLOT


Vladimir Guerrero (63%)
Mike Schmidt (63%)
Tim Raines (56%)
Barry Bonds (56%)
Derek Jeter (44%)
Chipper Jones (44%)
Manny Ramirez (44%)
Jim Thome (44%)
Roy Hallady (50%)
Trevor Hoffman (44%)
Don Sutton (38%)
Joe Nathan (25%)
Roy Oswalt (25%)
Billy Wagner (25%)
FALLING OFF THE BALLOT
Adam Dunn (6%)
Mark Buehrle (6%)

2016 HALL OF FAME VOTING and RESULTS
Welcome to TWO new Hall of Fame inductees!
(See the details below)
I've also attached the Hall of Fame tracking spreadsheet. Note the HOF Watch! tab. If you have any additional players you'd like to see added to that for lifetime tracking of their ongoing Hall of Fame candidacy, let me know and I'll add them in there. That sheet has now been updated to include the completed 2016 stats, and the Awards tab also includes the 2016 awards.
Before getting to the Hall of Famers, a few notes from the active players:
- Elvis Andrus passed 1,000 hits
- Carlos Beltran passed 350 home runs
- Adrian Beltre passed 350 home runs
- Jay Bruce passed 1,000 hits and 200 home runs
- Asdrubal Cabrera passed 1,000 hits
- Miguel Cabrera passed 400 home runs
- Robinson Cano passed 2,000 hits
- Jacoby Ellsbury passed 1,000 hits
- Prince Fielder passed 300 home runs
- Nick Markakis passed 1,500 hits
- Victor Martinez passed 1,500 hits
- Andrew McCutchen passed 1,000 hits
- Dustin Pedroia passed 1,500 hits and 100 home runs
- Mark Teixeira passed 300 home runs
- Chase Utley passed 1,500 hits
- Zack Grienke passed 150 wins
- Dan Haren passed 150 wins and 2,000 strikeouts
- Felix Hernandez passed 2,000 strikeouts
- Clayton Kershaw passed 100 wins and 1,500 strikeouts
- Jonathan Papelbon passed 300 saves
- Francisco Rodriguez passed 300 saves
- CC Sabathia passed 2,500 strikeouts
- Justin Verlander passed 150 wins
Now, read on to find out who the two new Hall of Famers are!
IVAN RODRIGUEZ
With 2,472 career hits, a .273 career batting average, and a -5 catcher arm, Pudge Rodriguez gets into the Hall of Fame with an even 75% of the votes!
MARIANO RIVERA
We have stats for Rivera going back to 2002, but in that time, he amassed 321 saves to go with a 2.15 ERA and microscopic .928 WHIP. Having a reputation as the greatest relief pitcher of all time helps, too!
RECEIVING VOTES AND STAYING ON THE BALLOT

Wade Boggs - 67%
Barry Bonds - 67%
Vladimir Guerrero - 50%
Tim Raines - 50%
Mike Schmidt - 50%
Chipper Jones - 33%
Jim Thome - 33%
Manny Ramirez - 25%
Curt Schilling - 50%
Trevor Hoffman - 42%
Roy Halladay - 33%
Don Sutton - 33%
Roy Oswalt - 25%
Billy Wagner - 25%
FALLING OFF THE BALLOT
Paul Konerko
Scott Rolen
Michael Young
PREVIOUS VOTING and RESULTS
2013 VOTING RESULTS
Thanks to those of you who voted in our second election! The ballots are in, votes have been counted, and our Hall of Fame has two new inductees! See below. All of the details are in the attached spreadsheet as well.

NEW INDUCTEES

ROBERTO ALOMAR, 2B, Seattle Pilots
We have stats for Robbie Alomar from 1995-2004, and those stats illustrate the all-around star that we remember from his playing days: a 296/369/450 career slash line, 1,562 hits, 148 home runs, 211 stolen bases, 606 career walks, and he was a strong 1 at 2B for most of his career. Alomar is the second Pilot to make it into the hall, joining inaugural Hall of Famer Ken Griffey, Jr.

RICKEY HENDERSON, OF, San Jose Sultans
We don't have much in the way of Gussomo stats for the greatest leadoff hitter of all time. Just some incomplete numbers from the 1981-1984 seasons, and a couple of partial seasons in 2002-2003 right at the end of his career. Here's what we do know: in those seasons we do have a record for, essentially four complete seasons in his prime, Rickey stole 516 bases. That means he AVERAGED almost 130 stolen bases per season!! Between that and the fact that he is remembered as the greatest leadoff hitter in the history of baseball, it was enough to get him elected!

REMAINING ON THE BALLOT

HITTERS
Barry Bonds - 65%
Vladimir Guerrero - 65%
Wade Boggs - 47%
Tim Raines - 47%
Ivan Rodriguez - 47%
Mike Schmidt - 47%
Manny Ramirez - 41%
George Brett - 35%

PITCHERS
Roger Clemens - 71%
Curt Schilling - 65%
Don Sutton - 35%
Trevor Hoffman - 29%
Billy Wagner - 29%
Javier Vazquez - 18%

In general, the voting population this year was much stingier with its votes than last year. Barry Bonds, Curt Schilling, and Roger Clemens - who fell just one vote shy of election - increased their vote totals. Every other player returning to the ballot decreased. This includes Ivan Rodriguez and his 2,472 career hits and reputation as one of the greatest defensive catchers in the history of baseball, and Trevor Hoffman, who fell from 63% of the vote and near election last year to 29% of the vote this year. It was a strong first ballot showing from Vladimir Guerrero (2,561 hits, 466 HR, 179 SB) who garnered 65% of the vote. On the flip side of Guerrero, Javier Vazquez maintained a spot on the ballot by a thread, getting the bare three votes he needed to stay on.

FALLING OFF THE BALLOT
Jeff Bagwell
Jay Buhner
Tom Glavine
John Olerud
Rafael Palmeiro
Jorge Posada
Dan Quisenberry
Alan Trammell

Rafael Palmeiro and his 450 recorded home runs fell from 32% of the vote to off the ballot in his second season. Ditto for John Olerud and his 2,244 career hits, 1,140 career walks, and .381 career OBP. We only have stats from 2002 on for Jorge Posada, but he still logged 223 career home runs to go with two All-Star appearances and two Silver Sluggers. That was good for 6% of the vote. Needless to say, the voters were very tough!

POSSIBLE ADDITIONS TO THE BALLOT NEXT YEAR

A sneak peek at some players who may be getting nominations for next year's ballot below!

Carlos Baerga
Chris Carpenter
Nomar Garciaparra
Roy Halladay
Mike Hampton
Todd Helton
Jeff Kent
Derrek Lee
Ted Lilly
Magglio Ordonez
Scott Rolen
Nolan Ryan
Kazuhiro Sasaki
Tom Seaver
Jim Thome
Larry Walker
Bernie Williams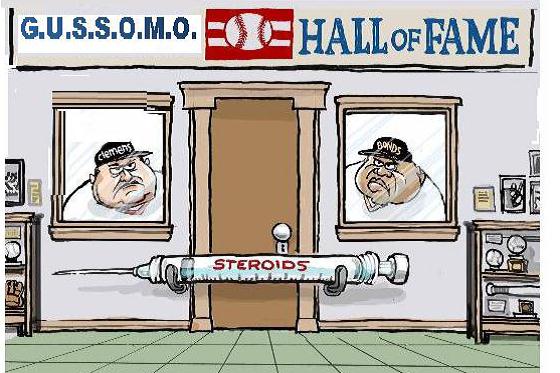 In testifying before the grand jury, Bonds claimed he didn't realize substances he used were illegal performance-enhancing drugs. The appellate judges based their decision on legal issues involving witness testimony, not the underlying facts.
Despite holding the career and season home run marks - he hit a single-year record 73 in 2001 - Bonds has been denied entry into baseball's Hall of Fame by baseball writers. He appeared on 36.8 percent of ballots this year, less than half the 75 percent needed.
''I think sadly his reputation has been tarnished, not because of the indictment or the reversal, but because of all the PED use,'' former baseball Commissioner Fay Vincent said. ''I think the public has made up its mind.''
Roger Clemens, whose pitching feats were as accomplished as Bonds' batting achievements, also has been denied Hall entry. Clemens was acquitted in 2012 of criminal charges he lied to Congress when he denied using PEDs.
Travis Tygart, chief executive officer of the U.S. Anti-Doping Agency, called the decision ''almost meaningless for the real issue, which is whether he used performance-enhancing drugs to cheat the fans of baseball.''
''I think at the end of the day America knows the truth and who the real home run record holder is, who did it the right way, and it's obviously not Barry Bonds,'' he said.